Self-paced online degree programs are not exactly uncharted territory. As far back as the 1800s, correspondence learning had become the earliest form of self-paced distance learning. Students received their educational materials through parcels.
Their completion of the modules and other requirements were wholly dependent on their pace. They sent the parcels back to their instructors as soon as they were able to.
Featured Programs
Fast forward to the present…
Universities, colleges, and online MOOCs today deliver online programs through one of two forms or both. The lessons are taught or delivered synchronously, where online students enrolled in the same course go online simultaneously with their instructor and attend class together.
It is similar to the traditional way a class is held, except that the lecture hall is now an online platform, or commonly a web conferencing app.
FEATURED SCHOOLS
Asynchronous online learning programs, on the other hand, are similar to video-on-demand subscriptions. The lectures, modules, and exams are uploaded on the school's website or the learning management platform. Students are free to access these materials whenever, wherever.
Pace and attendance are non-issues here, with only a demonstration of subject knowledge and mastery in quizzes, exams, research, or practical work submissions required to complete a course.
Hence the term "competency-based learning" or "competency-based education" or CBE. Self-paced online courses fall under this category. Working at your own pace takes the stress and anxiety away!
THE LOWDOWN
Self paced online courses allow adult students with busy schedules to earn higher education at their own pace. If you are just starting your college career, there are many online programs to consider that offer an asynchronous learning format. If you are a working professional and need to add accolades to your resume, self paced online courses are perfect for you, too! Online education programs often offer financial aid as well!
Top 12 Self-Paced Online Degree Programs: Undergraduate and Graduate
Bachelor of Science in Business Administration
One of the more popular self-paced online courses is a bachelor's degree in Business Administration.
The curriculum is usually composed of economics, statistics, accounting, finance, human resource management, marketing, operations, organizational behavior, leadership, sales, and supply chain management. Some programs also offer courses on in-demand topics like project management and strategic management.
The University of Wisconsin offers a CBE program in Business Administration through its UW Flexible Option. The tuition fee is on a subscription basis at $2,250. Students can take as many courses at their own pace as they can for 12 weeks.
---
Master of Arts in Organizational Leadership
Aspiring managers can opt for a self-paced master's program in Organizational Leadership as an alternative to the costly MBA.
While it does not include MBA staple programs such as economics and finance, most Organizational Leadership programs include courses on Globalization, Change Management, Theory and Behavior, Data Analysis, Project Management, Operations, Strategy Conflict Resolution, and a capstone project.
All these courses should help mold a future multi-faceted leader or manager in various sectors such as health, public relations, finance, and the corporate sector.
The University of Massachusetts Global school offers a self-paced MA in Organizational Leadership. This self paced course program commences continuously throughout the year and charges $3,500 where students can enroll in as many courses as they like and can in half a year.
---
Bachelor of Science in Nursing (RN-BSN completion program)
Registered nurses (RN) who have completed either an associate's degree or have completed 24 to 30 units can further their studies towards a bachelor's degree in Nursing through competency-based education.
Self-paced online courses include Pathophysiology, Research, Management, Leadership, Adult Care, Geriatric Care, and Community Health.
The Winston-Salem State University in North Carolina is one of the many universities that offer a self-paced BSN completion degree. It is the first university in North Carolina to offer such a degree. The tuition fee is on a per-credit-hour basis for this self paced course is $166 for residents and $512 for non-residents.
---
Master of Business Administration
An MBA may be the costliest among all business-related master's degrees, but it remains the most conferred and most profitable master's degree because of the flexibility and versatility it affords its graduates in terms of career and industry prospects.
It is also a popular master's degree offered via the self-paced route because most MBA students are working professionals who would benefit from a flexible, self-paced, and proficiency-based curriculum with online learning.
The versatility of an MBA can be seen through its curriculum, with concentrations in traditional areas like finance, accountancy, economics, marketing, international relations, operations, healthcare, human relations, leadership, public relations, and public administration.
Some MBA programs also offer concentrations in modern, IT-driven areas like data science and analytics, business intelligence, project management, strategy, and IT management.
Southern New Hampshire University offers a self-paced MBA degree that is not only renowned and accredited, but it is also customizable, offering seven concentrations. It is also an inexpensive and flexible MBA program that only costs $18,000.
---
Bachelor of Science in Dental Hygiene (A Completion Program)
The demand for dental hygienists, especially those with a bachelor's degree, continues to rise at a steady pace. While one can be a registered dental hygienist (RDH) with just an associate's degree, a bachelor's degree offers more career options for RDHs beyond private clinical practice.
Other industries with bright prospects for RDHs include the corporate setting, community public health, research, dental education, public administration, and entrepreneurship.
Those who find their footing in entrepreneurship venture into practice management consultancy, dental technology, marketing, and authorship. RDHs looking to expand their career options without leaving their current clinical work may opt for self-paced online courses for bachelor's completion programs in Dental Hygiene.
Minnesota State University offers an asynchronous CBE BSDH program that can be pursued full-time or part-time. It includes 11 courses in the following subject areas: dental technology, care planning concepts, periodontology, research, oral medicine, advanced practices, issues in dental hygiene, oral health promotion, and treatment planning. The tuition fee costs are $355 per course credit.
---
Master of Health Services Administration
The healthcare industry in the US is constantly evolving. Nowadays, healthcare goes beyond the service itself and bridges to the institutions that provide it. Health maintenance insurance, health information systems and technology, and public health administration have turned healthcare into a multi-faceted industry that needs highly effective administrators and managers.
Self-paced online college courses, such as a master's degree in Health Services Administration, are suitable for clinical practitioners like nurses, medical technologists, physicians, and other allied health professionals eyeing a lucrative leadership or managerial career in this industry.
Walden University offers this program through its Tempo Learning® format and its proprietary brand of self-paced and competency-based degrees.
Courses include foundational theories and concepts, financial management and economics in healthcare, human resource management, health information systems, healthcare leadership, organization, management, marketing and strategy, and law and ethics. This self pace course is offered at the tuition fee of a fixed rate of $2,700 for three months on a subscription basis.
---
Bachelor of Science in Information Technology/Computer Science
Without a doubt, this is one program that can be completed purely online and asynchronously. Even the course completion requirements can be submitted virtually.
A bachelor's program in Information Technology or Computer Science is a sought-after expertise with a lucrative career option. It is also a must-have for both computer geeks and newbies because of industry digitalization and automation.
Fully accredited online school Western Governors University offers a flexible and self-paced, online learning BS in Computer Science degree with a curriculum that covers all the facets of information technology such as web development, network infrastructure, coding, software development, project management, IT management, cybersecurity, data analysis, and management and even technical writing.
For a six-month flat rate of $3,920, students can take all the courses they need to complete their degree. They dictate the program's pace, whether steady or accelerated.
---
Master of Science in Psychology
Those aspiring to become clinical psychologists will need to pursue advanced degrees, starting with a master's degree in Psychology, then a doctoral degree, which is also a requirement for state licensure.
An MS degree in Psychology is also one of the many programs suitable for online and self-paced learning, as the very nature of the profession, largely based on patient conversations, can be done virtually.
California Coast University offers a self paced course graduate degree in Psychology that can be taken online, asynchronously, and at the student's own pace.
Courses include psychopathology, ethics, substance abuse, counseling and assessment techniques, psychophysiology, psychotherapy, clinical techniques, and research techniques. The tuition fee is $230 per credit unit, which, for this program of 39 units, totals $8,970 for the entire program.
---
Bachelor of Arts in Criminal Justice
A career in criminal justice is not just confined to the police or investigative work. One can also carve a steady career within the court system as a clerk, administrator, bailiff, or even a correctional officer.
While it is true that many law enforcement jobs do not require a four-year degree in criminal science or justice, having online college courses, such as a bachelor's degree can give the push law enforcement professionals need for a promotion. Obtaining these hard and soft skills will make them more effective in their roles.
Penn Foster College, a fully accredited online college, offers a self-paced online bachelor's program in Criminal Justice that includes courses like psychology, behavior science, the court system, proper evidence handling, criminal procedures, criminal law, and many more.
The tuition fee is affordable, and students can choose to pay the entire program fee, which is $999, or the monthly fee for as low as $60.
---
Master of Education
Educators aspiring to move up in higher education roles such as school administration, consultancy, assessment, or policy-making at the local, regional or federal level should consider earning an advanced degree in the field.
Purdue University – Fort Wayne offers a self-paced graduate degree program in Master of Education with a concentration in Educational Leadership. The program is comprised of courses in principalship, school and community relations, teacher development, curriculum development, personnel management, educational economics, and legalities in education.
Similar to other degrees in this list that are client-facing in nature, a practicum activity is required for program completion. Tuition fees start at $364 per credit hour.
---
Bachelor of Arts in Social Science
A bachelor's degree in Social Science affords a well-rounded liberal arts education that allows its graduates to carve careers in various sectors like business or corporate, government or policy-making, politics and strategy, education, social services, academe, research, non-profit or for-profit organizations, think tanks, consultancy, and many other similar fields.
Upper Iowa University offers a self-paced online bachelor's degree in Social Science (Sociology). The program includes human services, gender studies, political sociology, human behavior, human services, social welfare policies and programs, gender studies, globalization and sociology, psychology, research methods, and a capstone project.
Each online education course commences monthly, specifically on the first of each month. This self-paced program is offered both in web-based format and in correspondence or paper format (by mail), with the option to take two courses at a time at an accelerated pace.
This self pace course is offered at the tuition fee of $330 per credit hour, which is about 25% more affordable than the instructor-based online offerings of the school.
---
Master of Science in Health Informatics
The field of health informatics is a booming area career-wise. As healthcare now relies heavily on business processes, organizational workflows, digitalization, and automation, health information analysts, managers, and leaders with knowledge in data science, clinical data, clinical concepts, and workflows are becoming highly in-demand.
Arizona State University offers a self-paced online master's program in Health Informatics composed of ten courses, focusing on database modeling and health systems engineering (e.g., workflow analysis and redesign). The tuition fee for one year of study is $16,282.
The University of San Diego also offers a flexible MS in Health Informatics degree with three concentrations to choose from Informatics, Analytics, and Leadership. All the courses are self-paced and can be taken one at a time.
The 13-course program is expected to run for 24 months, culminating with a 14-week capstone requirement. Tuition fees start at $925 per course credit, totaling $34,225 for the entire program.
---
Common Features of Self-Paced Online Programs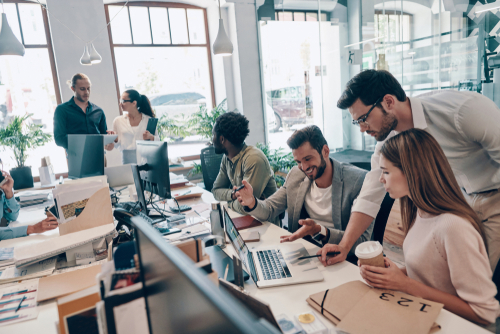 No schedule constraints.
Aside from the asynchronous schedule, self-paced online college courses allow students to progress through their curricula at their own pace.
The materials are available for access once the course has commenced, and there are no deadlines for submissions or even the course completion itself.
Courses frequently begin within the year.
Start dates for the degree program courses are frequent within the academic calendar, normally following a monthly or weekly schedule. Students can start the course almost anytime and would not need to wait a semester or worse, a year for the course to become available.
Courses can be completed anytime.
Just as the courses can be started anytime, the courses can also be completed at your own pace. Students enrolled in self-paced programs progress through competency. Tests and other graded activities can be taken once the student feels confident in their knowledge or mastery.
There's no need to wait until the term's end for the final exams to complete the course. Working at your own pace is great for students with busy schedules.
The tuition fee is scheduled differently.
Some schools like Northern Arizona University charge a fixed fee of $3,000 for six months of unlimited access to all of the school's online courses included in its self-paced online catalog.
On the other hand, other schools like the University of Arkansas charge per course basis, with each self-paced course amounting to three-course credits. Most traditional courses and even instructor-paced online courses charge tuition fees on a per credit hour basis.
The Pros and Cons of Self-Paced Learning
Pros:
Cons:
Strictly speaking, self-paced learning has no major downsides. However, certain aspects of this learning format may not suit specific student types. There are no inherent disadvantages to this type of education, except:
The disadvantages to self-paced online courses/programs only become apparent when procrastination is a trait of the student and they can't complete a course. CBEs require, above anything else, diligence and discipline.
This is true for students enrolled in programs requiring a fixed tuition fee for a specific time, say, a semester or a term. It is structured like a "course buffet," take all the classes you need to complete your program and then some if you still can.
But if one lacks the discipline to maximize such a tuition and curriculum structure to their advantage, then it will all just go to waste.
Tips to Succeed in Self-paced Education
Decide at the beginning if a CBE program is for you. Do you like working and studying autonomously? Is it an effective method of learning for you?
If you answer "yes" to both questions, then a CBE or self-paced program might be for you, but it does not stop here. Read on.
What Makes A Degree Suitable For Self-Paced Learning?
In theory, all degree programs can be offered through the self-paced online route or competency-based education. The difference lies in the capstone projects or the culminating activities of the thesis requirements of each degree program.
Programs that do not require front-facing activities like information technology, finance, accountancy, communications, and other back-office professions are suitable for this learning mode.
On the other hand, self paced online courses with service-based roots such as hospitality, healthcare, and other physical skilled trades such as carpentry, machine operations, and the like will most likely require physical presentation or demonstration of knowledge and mastery of the subject.
However, the program's early parts, which are usually composed of theoretical courses, can be delivered online and asynchronously.
KEY TAKEAWAY
Take advantage of the many programs that offer online students with busy schedules the opportunity to earn their degree program through self paced online courses.
Working at your own pace means you can take your time and complete your assignments with confidence. International students can partake of these awesome opportunities, too! Check it out!
---
Before you go! Check out this link!
ALSO READ: