What comes to our mind when we hear the term "information technology"?
For many of us who have no background in computers and the likes, we usually coin information technology with the people we call every time we encounter different issues with our computers at home. Although this is not wrong, this understates the wide scope of this crucial field. 
Featured Programs
So, what is information technology? The simplest definition is the application of technology in solving organizational or business problems on a broader scale. Regardless of the role, any member of an organization's IT department can deal with technology problems—big or small.

There are three major pillars of responsibilities that encompass the IT department.
IT Operations. This includes network maintenance, tech support, device management, and security testing. IT operations is a universal category for the IT department's daily task.
IT Governance. This is the combination of processes and policies that guarantee the smooth and effective functions of the IT System. The process has to align with the needs of the organization strictly.
Hardware and Infrastructure. This refers to the physical elements of an IT infrastructure and includes the setup and maintenance of IT equipment like phone systems, servers, routers, and other personal devices like laptops.
---
The 12 Free Online College Classes for Information Technology
As you are just starting on your journey into becoming an IT professional, one excellent way to start is to enroll in IT-related courses. Today, there are so many courses that will help you build the right foundation as you enter the IT sector.
Below is a list of the 12 of the best free online college classes for information technology. Find the course that you think is right for you.
FOR BEGINNERS
Harvard University via edX

Data Visualization is a part of Harvard University's Professional Certificate Program in Data Science. Offered via edX, this free online course covers the fundamentals of data visualization. It also focuses on exploratory data analysis.
The course uses three examples and ggplot2, an extensive data visualization package designed for "R," a statistical programming language.
Within the first few days, students will learn about simple datasets, and then you slowly program into case studies about economics, world health, and infectious disease trends in the US.
The course also teaches how to look at biases, mistakes, systematic errors, and other issues that normally lead to data that must be handled with care. In most cases, it's nearly impossible to realize a mistake in a dataset. This is why data visualization is specifically important.
Today, data visualizations have become more reliable than ever, thanks to the never-ending availability of informative software tools and datasets.
Data visualization provides the most efficient way of communicating data-driven findings, detecting flaws, and motivating analysis. With this course, you get to gain skills needed to boost data and improve your career.
Best Features:
100% free and online
Handled by Rafael Irizarry, a Biostatistics Professor from the Harvard T.H. Chan School of Public Health
Perfect for beginners and IT enthusiasts
A verified certificate is available for $149
You will also learn two other critical courses: Data Science and Data Analysis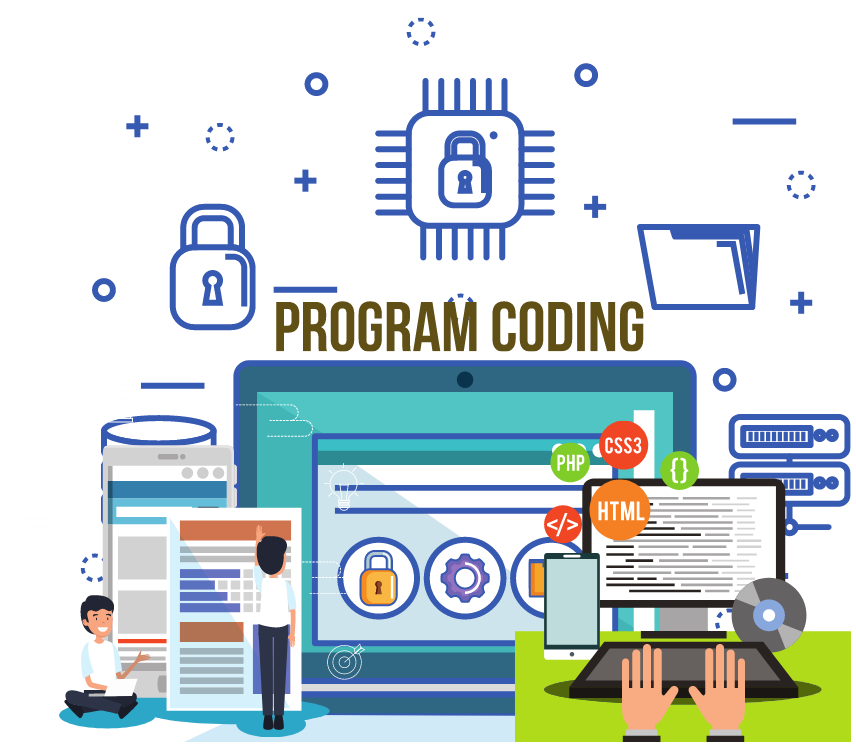 Columbia University via edX

This course is a part of a Professional Certificate offered by Columbia University via edX. On this free online course, you will learn about the many components of the Internet and understand how sensors achieve data.
Plus, you will learn how to examine ways of correctly analyzing data, understand facial recognition software and sentiment analysis. Other topics include:
Basic software of IoT (Internet of Things), protocols, and networks
How automated control and decision is done with IoT technologies
Learn more on the relationships between natural language and data science and audio-visual content processing
Discuss technology devices like low power processors, sensors, gateways, hubs, and cloud computing platforms
Read research projects out of online media, scientific journals, and novels
Learn about the techniques you can apply to solve different issues in face recognition, web-scale image search engines, mobile product search, copy detection, and security surveillance
Review important methods for content classifications, visual feature extraction, and high-dimensional indexing
Study processing, analysis, and data collection
Best Features:
This course is taught by four of Columbia University's top professors: Fred Jiang (Assistant Professors in the Electrical Engineering Department), Julia Hirschberg (Professor of Computer Science), Michael Collins (Professor of Computer Science), and Shih-Fu Chang (Chair Professor)
The program is self-paced on your time
Duration is five weeks, at 7-10 hours per week
You can have a verified certificate for $99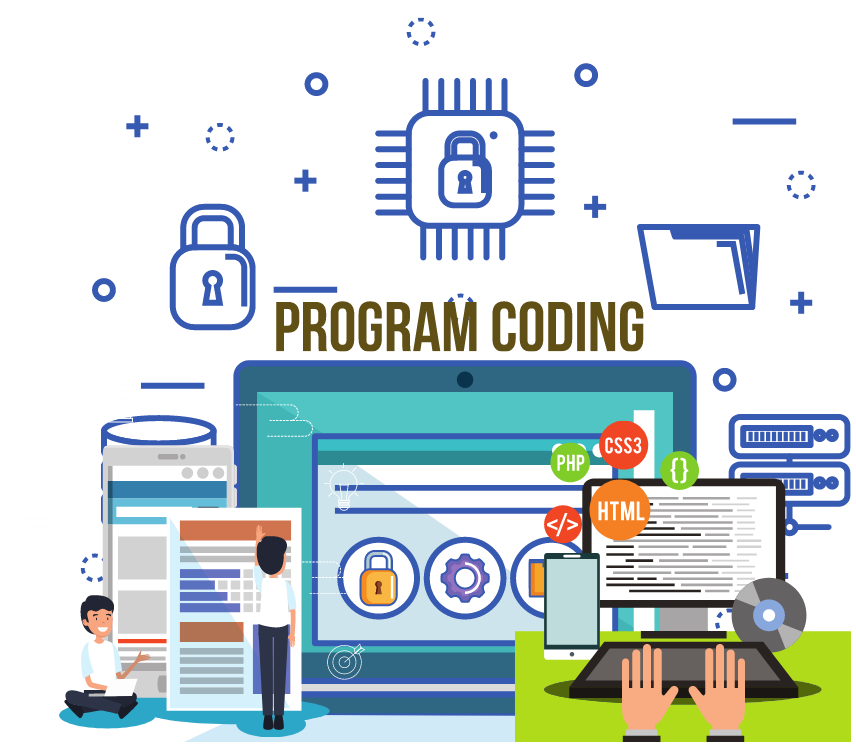 Microsoft via edX

This is the course where you are introduced to how to understand better the critical roles of an IT support agent, specifically the key responsibilities and core priorities of being an agent. Your support skills will be significantly improved thru your interaction with other key roles, plus your performance skills are mastered accordingly.
IT Support: Fundamentals will also examine what impacts a client's behavior every time he deals with IT support, including communication styles and global cultural differences.
At the conclusion of this free online course course, students will gain a better understanding of the primary stages of case management: from initial receipt of calls for solution development to closure of the case.
This free online course is one of the four courses designed for people thinking about moving into IT support.
Best Features:
100% online and free
The course is self-paced and runs for four weeks (at 3-4 hours every week)
Industry professor Bernie Lawrence teaches it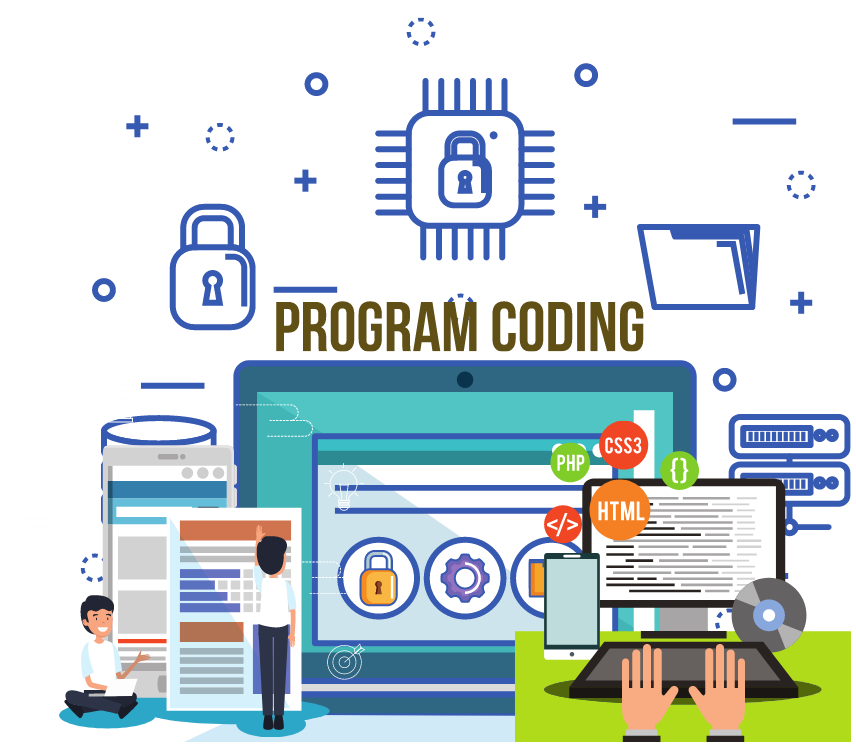 University of Washington via edX

This course is offered for free by the University of Washington via edX. You will learn the right project management frameworks and standards that improve efficacy and supply definite business benefits.
Running for six weeks, at 2-5 hours per week, this course is part of a professional certificate and focuses on studying the most used project management methods in the IT industry and knowing why these methods are effective. After completing the course, you will learn to:
Elaborate why most organizations utilize project management in delivering business values
Define what the differences are between Agile-based and iterative and predictive life cycles
Describe the relationships among portfolios, projects, and programs
Differentiate the various roles in project management: project manager, stakeholder, sponsor, product owner, developer, and ScrumMaster
Be knowledgeable on how organizational culture influences the roles of a project manager
Best Features:
100% free and online
Taught by Debra Hildebrand, an Instructor of Project Management from the University of Washington
For just $199, you can get an instructor-signed and verified certificate with the school's logo to confirm your achievement. This will help you boost your job prospects.
You can add your certificate to your CV and have it directly posted on your LinkedIn profile.
---
FOR INTERMEDIATE LEARNERS
Google via Coursera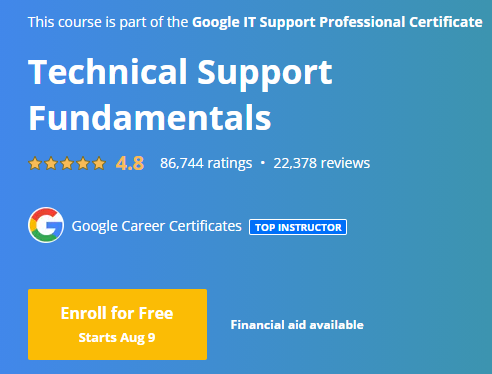 This is one of the many courses designed to prepare you to become an entry-level IT support specialist. Thru this course, you will be introduced to the wide world of information technology.
You will understand the field's many facets, such as computer hardware, troubleshooting, computer hardware, the Internet, and customer service. Upon completion of this program, studens are expected to:
Assemble a computer set up from scratch
Recognize how a binary system works
Select and install the most suitable operating system in a computer
Understand and know how the Internet works and what its impact is in the modern world
Find out how apps are made and how they function under the computer hood
Use basic methodologies in problem-solving, and gain soft skills in an IT setting
Best Features:
Flexible deadlines
Shareable certificate
100% free and online
Perfect for beginners, with or without computer backgrounds
Google Career Certificate is part of Google's initiative in helping everybody get the best access to Google's tools and training to boost their careers, skills, and business.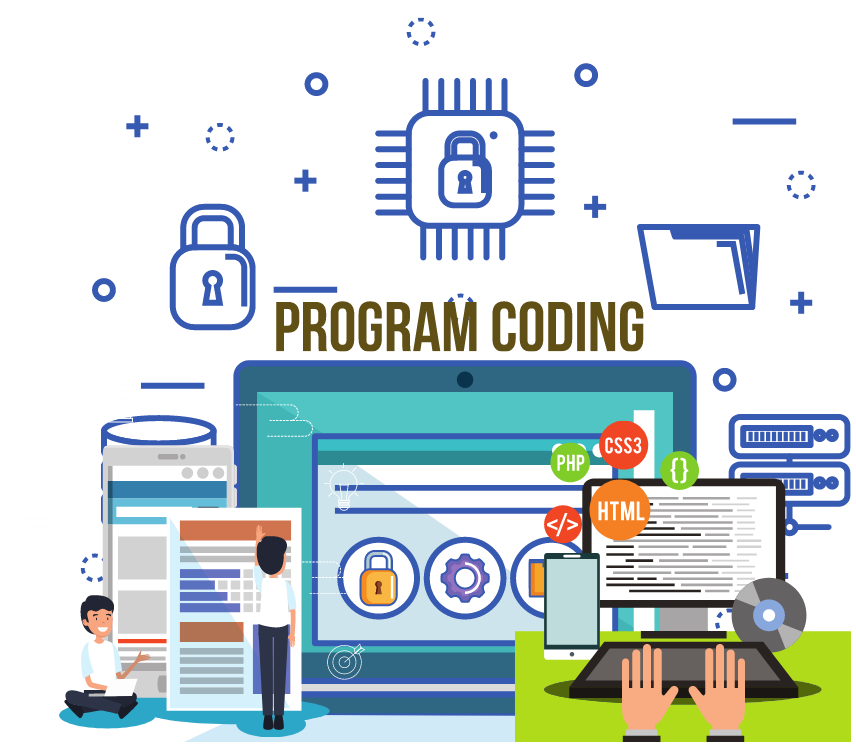 Columbia University via Coursera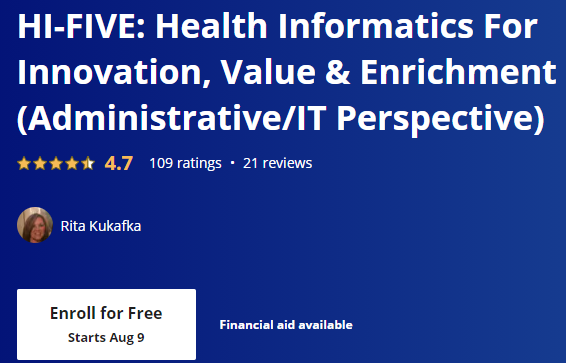 Health Informatics for Innovation, Value, and Enrichment (HI-FIVE) is a 10-hour free online training designed by Columbia University back in 2016 and is delivered via Coursera.
The healthcare system in the US is rapidly changing, which is why transformative health care delivery programs heavily depend on health information technology to improve care, support patient engagement, maintain patient registries, sustain and develop data infrastructure suitable for value-based, multi-payer payments, and allow analytical capabilities to streamline reporting and decision making.
The free online HI-FIVE course is one of the three courses in this training program. The topics primarily revolve around value-based care, healthcare data analytics, care coordination, and interoperability. Each of these courses is made from a different standpoint based on the many roles of health care.
This third course is from an IT or administrative perspective and is geared towards analysts, managers, executives, and staff that work in data, IT, finance, and operations. The skills you will gain from this course include value-based pricing, health informatics, analytics, and data analysis.
Best Features:
100% free and online
Suitable for beginners
This is a short course that you can complete in just 14 hours.
Shareable certificate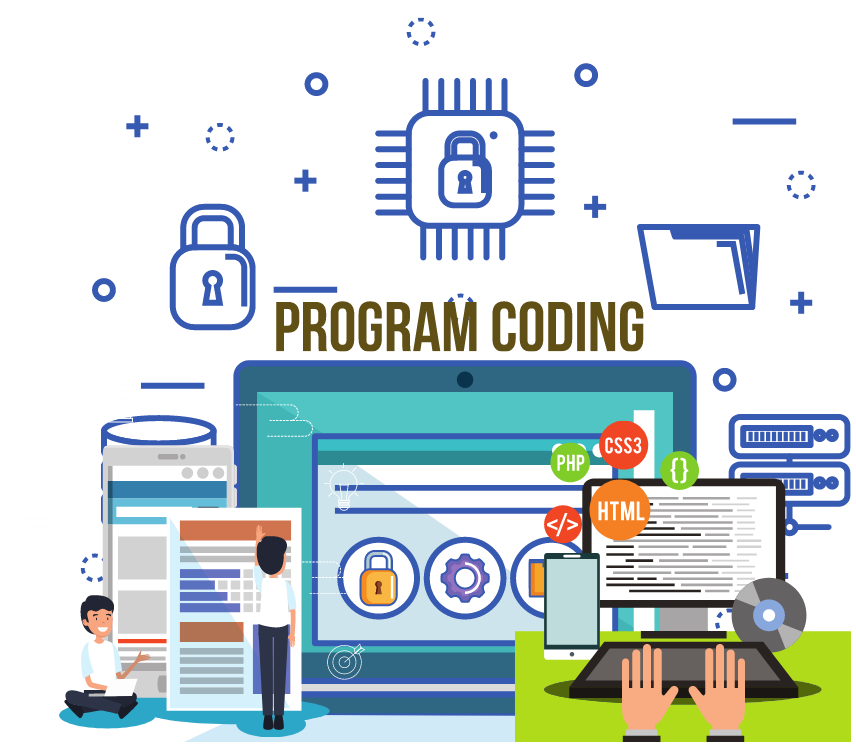 University of Colorado System via Coursera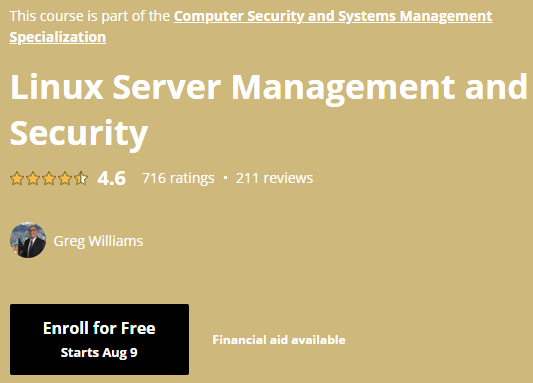 Whether you are trying to enjoy Netflix or getting access to your bank's app, your computer works with a Linux system. In this 5-week long, free online course, you will dig deeper into how Linux works from the standpoint of an enterprise.
During the first week, you will understand how an enterprise works with Linux.
After week 1, you can easily distinguish the different versions of this operating system and understand how each one is used in an enterprise setting.
By the second week, you will learn how to configure the Linux system. You get to demonstrate the many commands of Linux and how these commands are used.
In week 3, students will learn about adding users to and configuring the Linux authentication mechanism's control systems.
Finally, on weeks 4 and 5, you will further explore how to harden the Linux system. You will classify different technologies to have the Linux system secured.
Best Features:
100% free and online
Flexible deadlines. You can reset your deadlines based on your schedules
Shareable certificate
Paid certificate available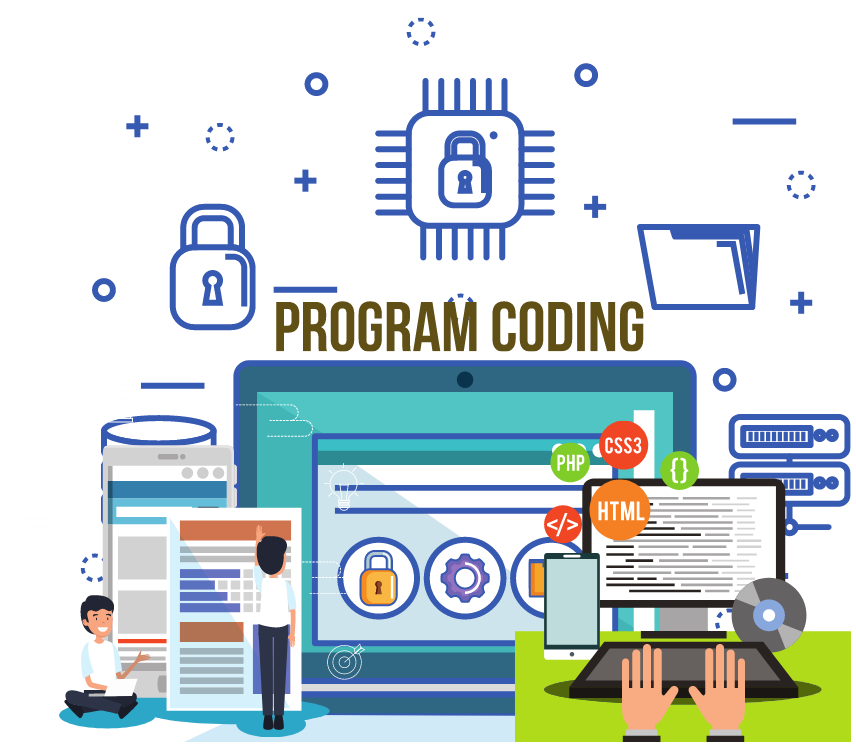 Northeastern University via Coursera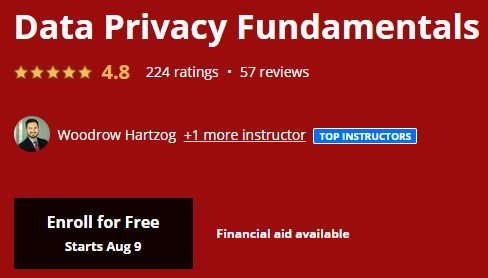 This free, 3-week-long online course is made designed for beginners. Taught by industry expert Woodrow Hartzog, Northeastern University offers Data Privacy Fundamentals via Coursera and teaches you the fundamentals of data privacy.
This course introduces data privacy to a bigger audience. Each participant will see how data privacy has completely evolved as a critical concern for both private and public organizations, and the public.
You will hear technical and legal practitioners and experts who constantly come across data privacy issues. You will review the important theories of data privacy, along with data privacy in the context of artificial intelligence and social media.
You will also explore several data privacy issues in surveillance, journalism, and new technologies like biometrics or facial recognition. Once you complete the course, you are qualified for a CPE credit.
Students graduate with these top skills:
pinpoint foundational understanding of privacy concepts and theories in this digital age
identify the frameworks and rules for data privacy
understand privacy implication of today's modern digital technology
Best Features:
100% free and online
Suitable for beginners
Paid certificate available
Three weeks long and 8 hours worth of material
---
FOR ADVANCED LEARNERS
Massachusetts Institute of Technology via edX

This is a 13-week, self-paced free online course for information technology offered by the Massachusetts Institute of Technology via edX. In this course, you will explore ways to leverage IT into combatting diseases and promoting health, especially in places where the basic resources are scarce.
No matter the country, diseases know no limits. The increasing global travel, in effect, has fueled the incessant spread of infectious diseases, as what the COVID 19 pandemic has. That is why we need to consider technology as the driving force that will sweep nation after nation faster than diseases.
And with the birth of mobile phones allows computational data and power right at your fingertips. New technologies in battling and tracking these diseases are discovered.
This course will lead you to explore innovative solutions in information systems in some developing countries. This will focus not only on teaching you about the importance of technology but also on other critical issues for technology to succeed, like project management, quality improvement, and leadership skills.
Eventually, health care delivery solutions will need efficient and sound operations like supply chain management and physical infrastructure to deliver the best quality of care.
The program is for those interested in implementing and making a health IT project that needs multidisciplinary teams. That's why don't be surprised to see people from various disciplines—medicine, computer science, public health, engineering, or business, enroll in this course.
Best Features:
100% free and online
The course is 13 weeks long, at 2-3 hours per week
Open for advanced-level enrollees
Taught by industry experts Leo Anthony Celi, Alon Dagan, Rodrigo Deliberate, Kenneth Eugene Paik, Tom Pollard, and Jesse Raffa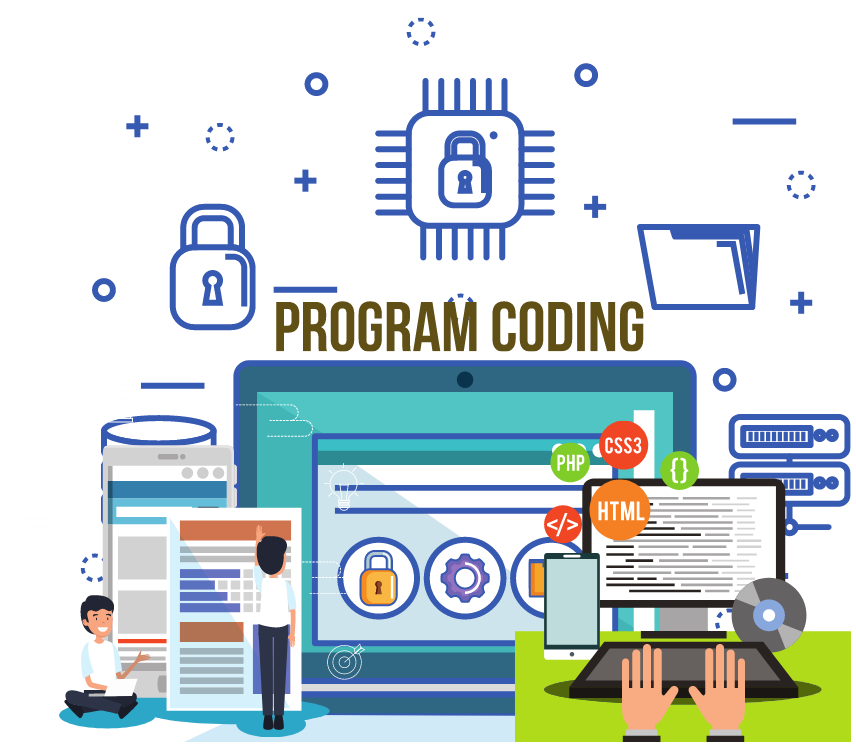 Georgia Institute of Technology via Udacity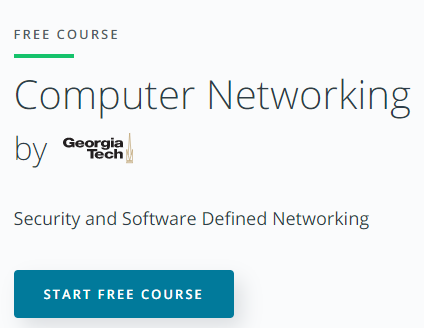 Although this course is offered at Georgia Tech as CS6250 as part of the Online Master's Degree, taking this program here at Udacity will not give you credit towards your OMS degree. Still, you can learn a lot from this free online program.
Computer Networking by Georgia Tech covers several topics on Computer Networking. This includes Data Center Networking, Software-Defined Networking, and Content Distribution. The program has three parts:
Part 1 is focused on the design principle and goals and the implementation of a Computer Network. It touches different routing algorithms used in computer networking like distance-vector or link-state.
Part 2 discusses the content distribution and resource control in Networking Applications. This talks about Traffic Shaping and Congestion Control.
Part 3 is the operations and management of a computer network that encompasses software-defined networks (SNDs), network security, and traffic engineering.
Why should you take this course? If you have plans to build your computer networking skills, or you plan to move into positions in network engineering such as a technical operator, network administrator, or systems administrator, you should go for this course.
This program has a hands-on approach to teaching highly technical materials. They use Mininet (a type of network emulator), so you can have a full idea of how a computer network works and know the factors that contribute to the efficiency of the network.
Best Features:
100% online and free
12 weeks long; self-paced
paid certificate available
taught by Nick Feamster and Joshua Valdez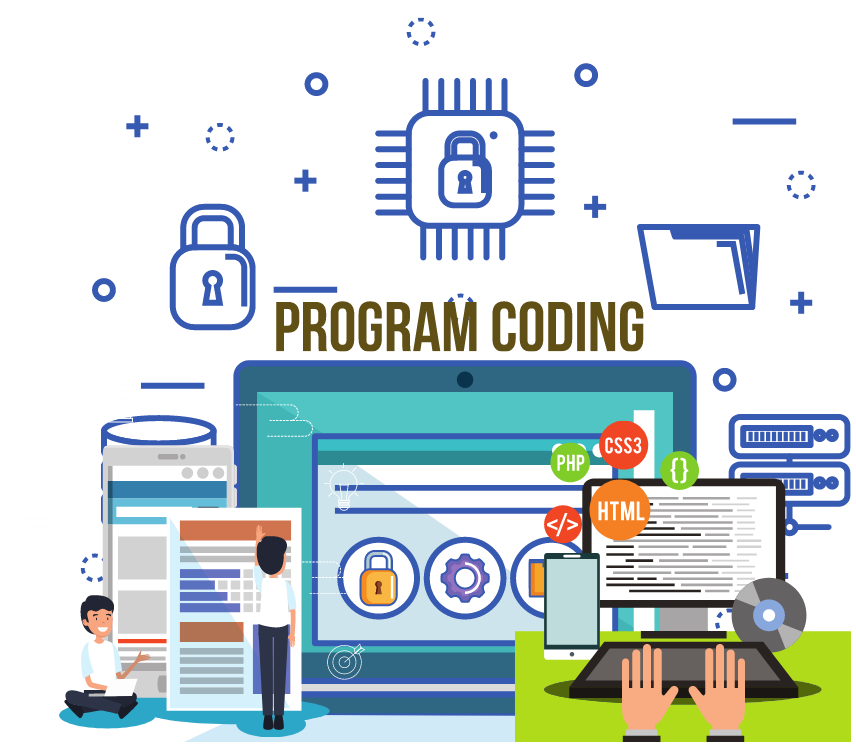 John Hopkins University via Coursera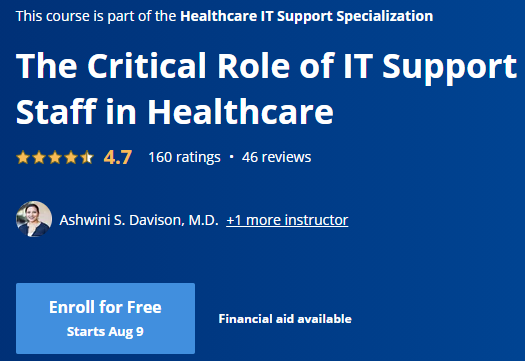 This course is perfect for beginners and takes two weeks to complete. Now is the best time to explore a career in Health IT support, and what better way to start that than to join in this introductory course. In this program, you will learn about the many IT support roles that are crucial in the healthcare industry.
An IT support staff plays a lot of important duties in different healthcare venues. Aside from helping hospitals, clinics, or emergency rooms, it's highly probable that you end up giving support in an ambulatory surgical center, in a skilled nursing facility, virtual care setting, and even in the home of a patient.
Anytime, you get to interact with pharmacists, doctors, nurses, and other health professionals. In most cases, these people heavily rely on IT support specialists that will help them maintain a highly reliable healthcare organization.
Thus, learning about the interesting and challenging world of HIT (Health Information Technology) is what you may want to consider.
Best Features:
100% online and free
Paid certificates available
Perfect for beginners
The course is two weeks long, 2 hours worth of material
Taught by industry experts Ashwini S. Davison, Director of Strategy and Transformation, and Jessica M. Roosth, Project Leader on Information Technology. They are both professors from John Hopkins University.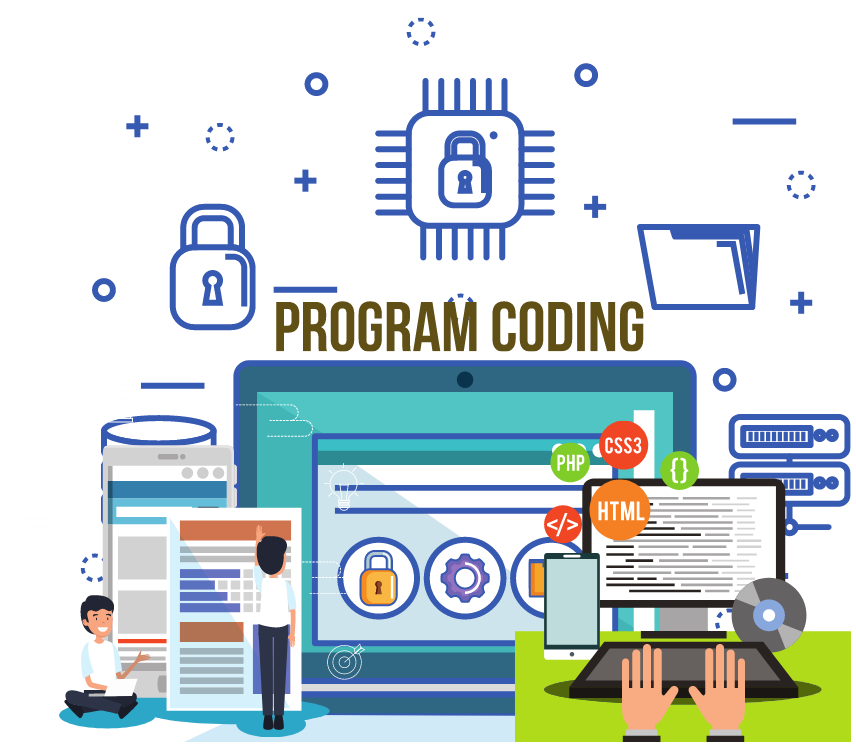 John Hopkins University via Coursera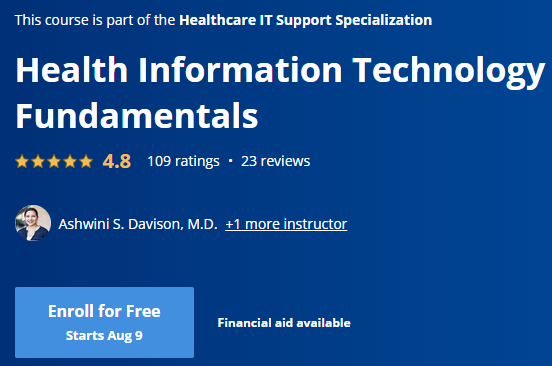 Featuring a timely and relevant topic, this free course gives you an overview of the IT ecosystem of the health industry. It especially focuses on the role of EHRs (electronic health records). You will learn about the many factors contributing to the move from paper-based records to digital records.
EHRs include clinical decision support, computerized provider order entry, medication reconciliations, and documentation capabilities. Just like a doctor's stethoscope, the HER is a critical tool in the healthcare industry. It plays an integral part throughout the journey of the patient.
Also, you will learn how to go about patient scheduling, front desk registration, emergency room encounters, outpatient visits, and in-patient admissions.
Another feature of the course is that you will also find out about technical issues related to the HER, like problems in logging or password resets.
Best Features:
100% online and free
Paid certificate available
Flexible deadlines
The course is four weeks long
Instructors are Ashwini S. Davison, Director of Strategy and Transformation of John Hopkins University, and Ebony Williams, EPIC Application Supervisor of John Hopkins University
Free online college courses in IT brings you up to date on the latest in an evolving industry! With a better understanding of Information Technology basics, you can decide whether or not an IT profession suits you!
---
Frequently Asked Questions
Is Information Technology Important?
Organizations will not smoothly work without the right IT systems. Finding a business that does not incorporate computer systems into its operations is next to none in this day and age.
As far as connectivity is concerned, businesses heavily rely on technology. To keep up with the best level of service, coupled with the most reliable and secure connectivity, business owners need the help of IT specialists to help them with their network.
As time passes, the majority of today's companies want to apply more sophisticated and intuitive solutions. Technology blogger and Chief Information Security Officer Edward Kiledjian said the right IT personnel in a company is one of the keys towards outsmarting, out delivering, and outpacing business competitors.
With that, let's take a closer look at what current and future IT specialists are expected to work on.
Data Overload: Every business process massive amounts of data. Thus, this will need sophisticated software, solid processing power, and the best human analytical skills.
Cloud Services. When storing huge amounts of data, most companies today believe operating their servers is no longer feasible. Thus, third-hosting platforms (cloud services) are getting more popular. And to maintain these remote platforms, it needs a professional IT expert.
Mobile and Wireless Usage. Most employers today offer remote work options for their employees, which requires tablets, smartphones, and laptops that are roaming and wireless capable.
Bandwidth for Video Hosting. Because of the worldwide COVID-19 Pandemic, videoconferencing has become more in demand than ever. This equates to more demand in network bandwidth. Thus, companies need the right people to handle such demand efficiently.
Looking at the present situation, it's not a surprise to hear that the demand for IT careers is growing. The Bureau of Labor Statistics confirms this, projecting an industry growth of 13% between 2021 and 2031. This is faster than the usual average for most occupations.
Hardware vs. Software: Which IT Department is Which?
Perhaps you have clearly understood that software and hardware are the two largest parts of an IT department's jobs. But what counts as software? And what is hardware? Here's a breakdown to clearly understand their distinction.
Hardware, the computer system's physical component, consists of the central processing unit, the motherboard, and the hard drive. Hardware can also be those other physical parts that you can connect to the outside of your computer like your printer, mouse, or keyboard.
Simply put, hardware is any component, device, or part of a computer and its network that you can physically manipulate and touch.
Software, meanwhile, is something that you can't change physically. It includes all the programs, data, and applications stored in the computer electronically, like an audio editing app or an operating system.
So how does this difference relate to a career in the IT department? Most IT jobs today require a combination of both software and hardware-based know-how.
Some IT professionals spend more time configuring hardware components, although these things are also administrated by software. Also, IT professionals are obliged to deploy and set up software apps for many users.
What Career Opportunities Await an IT Professional?
After understanding the general obligations of an IT department, perhaps you're wondering by now what specific individual roles await an IT professional. Below are some of the key positions you can find in an IT department:
Network Systems Administrators. These people focus on the bigger picture of a network system, performance, and security.
Computer Support Specialists. They are the frontrunners in the IT department. They are responsible for troubleshooting technology issues like computer crashes, software problems, and hardware trouble. These IT professionals may also work with senior-level IT specialists in a larger-scale network issue.
Information Security Analysts. These professionals are the ones tasked to secure the computer network of an organization. They conduct tests and developing the best network security practices in a company.
Computer Systems Analysts. The people behind the scenes integrate the best IT principles with the best business solutions. Usually, they focus on a specific industry while working for an IT firm, although some directly work in an industry, like the government or finance.
What Are The Important Skills for Information Technology?
Coding Skills
Writing code is one of the basic skill sets that an employer will look for in an IT professional. An employer seeks a candidate who can code in multiple languages if the job involves programming or software/web development, as many systems are built using various languages.
To see a software development project and manage things like QA, an IT professional should also understand the process of code writing (quality assurance).
Application Development
Architecture
Artificial Intelligence
Cloud Computing
HTML
C++
C Language
PHP
UX Design
Python
JavaScript
Java
Ruby
Time and Project Management
Many field professionals will need to be self-directed and self-motivated, and being self-directed means managing projects effectively. Technology work frequently takes longer than expected, as evidenced by how often timelines and milestones change over a long project.
An IT professional should accurately estimate how long a project will take and then stick to those timelines. They should also be capable of assisting an entire team in managing their workload daily, weekly, monthly, and project-by-project basis.
Scheduling
Goal-Oriented
Digital Communications
Manage Remote Working Teams
Continually Review Processes for Improvement
Multitasking
Meeting Deadlines
ICT (Information and Communications Technology
Communication Skills
Communication skills are essential for anyone working in IT because information technology professionals frequently work across multiple teams and groups. IT professionals are often called upon to provide technological solutions for people who are not as tech-savvy.
They must demonstrate leadership at all levels of projects and with a wide range of groups. They are frequently required to present ideas and reports to larger groups of people.
Building teams and fostering collaboration among peers will be a part of an IT professional's job.
Team Building
Teamwork
Leadership
Collaboration
Written Communication
Oral Communication
Active Listening
Communicating Complex Information in Digestible Amounts
Knowledge and Computer Networks
Networking knowledge will be required of most IT professionals in both large and small businesses. Knowledge networking is part of good communication skills.
It necessitates gathering groups of people in a working environment to share what they know to build a knowledge system within an organization that is greater than the sum of its parts.
Some IT jobs on the other side of "networks" may include network architects, engineers, and systems administrators. Network administrators (or systems administrators) are in charge of a more extensive system's day-to-day operations.
SQL
JavaScript
Python
Cloud Systems Administration
C++
Functionality
Cyber Security
IP Setup
Wireless Modems/Routers
Cloud Services
PHP
Information Management
Career Outlook for Information Technology Jobs
From 2021 to 2031, employment in information technology occupations is expected to grow 13 percent, faster than the average for all occupations. These occupations are expected to generate 667,600 new jobs.
The increased emphasis on cloud computing, extensive data collection and storage, and information security will increase demand for these workers.
In May 2021, the median annual wage for computer and information technology occupations was $91,250, higher than the $41,950 median annual wage for all occupations.
---
RELATED READS: