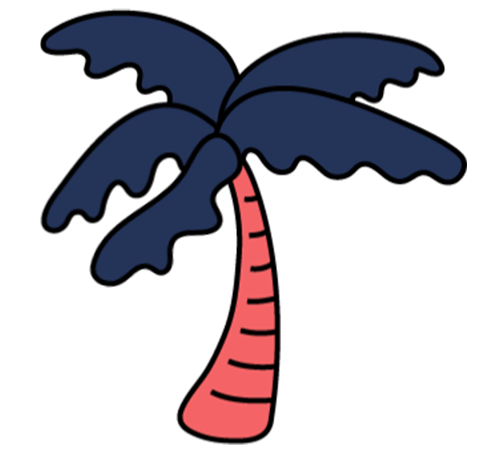 White sands, palm trees, seashells – tropical college: what college student could resist these? College life is synonymous with pressure and hard work–and it goes without saying every student looks forward to a day at the beach. Spending some R&R time in a tropical paradise often makes it to a college student's bucket list. Needless to say, pursuing higher education in a college in US tropical islands makes for a lovely learning environment–and ultimately translates to lower stress.
Table of Contents
Benefits of Relaxing Academic Environment
Stress is one of the reasons why college students cannot perform well in school. Not only does it deplete your energy, but it also prevents you from doing their schoolwork efficiently and properly. Pressure and stress may also lead to burnout and depression. Because of the consequences of stress, students must take a break once in a while.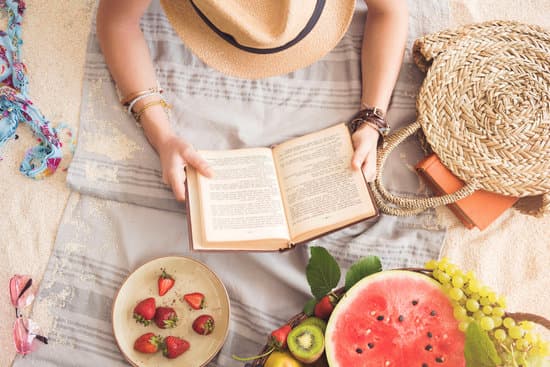 Lucky are students who attend universities located in places of paradise or nature. On-campus students who spend their college years in buildings nestled in concrete jungles are missing out the tropical view! According to a study, interaction with greenery or nature can reduce stress, balance emotional state and may result in improved cognitive function. Looking at nature will help you calm down and give you a change of pace. This will work as a refresh or reset button, giving you a renewed interest in what you do!
Engaging in relaxing activities gives you the time for introspection. You can process what you have learned, and reflect on how these apply to your reality. Studying near the beach has the same effect. When you feel like college is taking a toll on your well-being, find relief by just taking a walk. Meditate and listen to the sound of the waves to calm your mind. You can meditate as well.
When thinking of attending college in the United States, tropical islands don't usually come to mind. But did you know that American students (and Americans in general) can enjoy the warm equatorial regions without having to travel to a country or territory that is strictly foreign? Technically speaking, Americans can visit some tropical U.S. territories without having to own or use a passport.
Several of these U.S. territories make it to the list of the world's must-visit exotic destinations. Apart from that, these tropical islands with sandy beaches and warm waters are home to top-rated top colleges and universities with impressive graduation rates and career outcomes.
Need information on these colleges on tropical islands? Start packing your swimming stuff and crafty dorm decors. We've got you a list of 10 island colleges that are not only perfect for the beach-loving student; they're also haven for those who want to make their every dollar count!
Colleges in US-Territory Tropical Islands that are Cheap or Free

#1 – American Samoa Community College (Tutuila, American Samoa)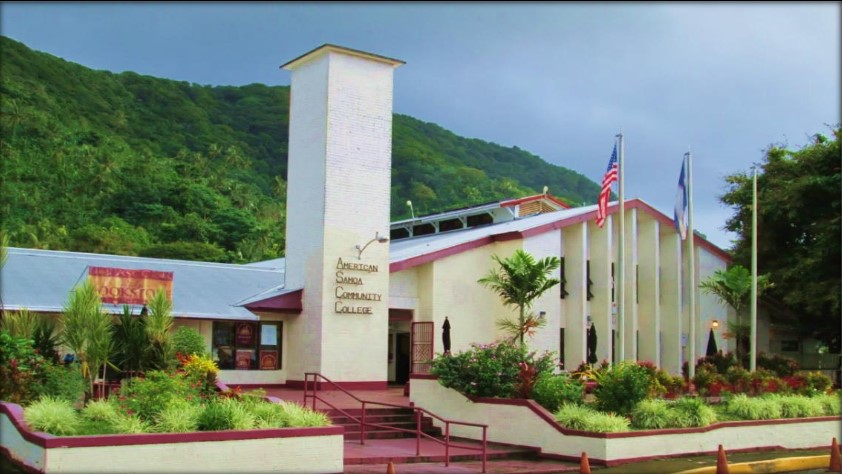 American Samoa Community College
An unincorporated US territory, American Samoa is located southeast of Samoa in the South Pacific Ocean. All year, the five primary islands and two atolls of American Samoa enjoy an average temperature of 82 degrees. With 80% of its population speaking English, this tropical place is a great choice for students who can't get enough of the sun and the beach!
American Samoa is home to the American Samoa Community College where students enroll programs in liberal arts, vocational-technical, and general education. The college was recently authorized to offer a Bachelor's Degree in Elementary Education. For two 15-credit semesters, ASCC students who are non-U.S. citizens pay $4,250. U.S. citizens and nationals pay only $3,950.
Did you know?
Every year, students at the American Samoa Community College "make the ocean their classroom." Through the American Samoa QUEST program, students study "methods for counting fish, algae, corals, and other invertebrates" and dive into the waters to collect data, which they analyze as part of their research.

#2 – Escuela de Artes Plásticas y Diseño de Puerto Rico (San Juan, Puerto Rico)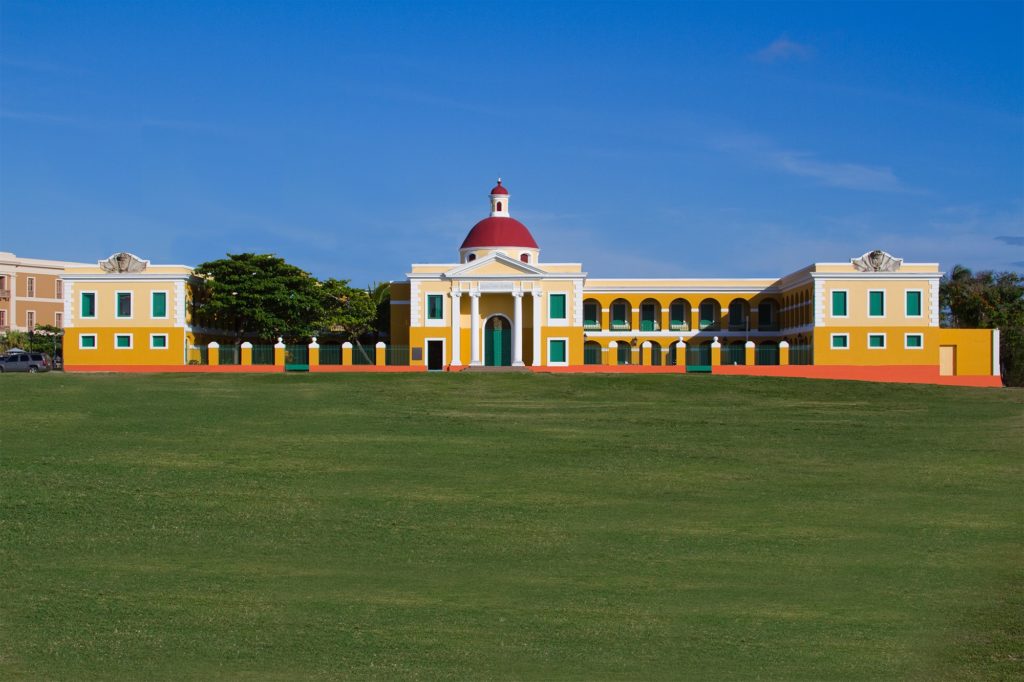 Escuela Des Artes Plasticas De Puerto Rico
A beautiful and historic district called Old San Juan is an island situated in the northern side of Puerto Rico. It is the biggest and most important seaport in the US territory and is a key financial, manufacturing, tourism, and cultural district.
The School of Plastic Arts of Puerto Rico (Escuela Des Artes Plasticas De Puerto Rico) is a popular college in the visual arts. Calling itself "a place that challenges your creativity", the college offers concentrations in sculpture, painting, fashion and photography, and fashion. Thinking about enrolling in this Puerto Rican college? Out-of-state tuition is $6,582 while tuition for in-state students is $3,942.
Did you know?
Despite being a very small non-profit, public higher educational institution with only 500 to 999 enrollments each year, this 52-year college is Puerto Rico's "foremost institution of higher education in the visual arts."

#3 – Northern Marianas College (Saipan, Northern Mariana Islands)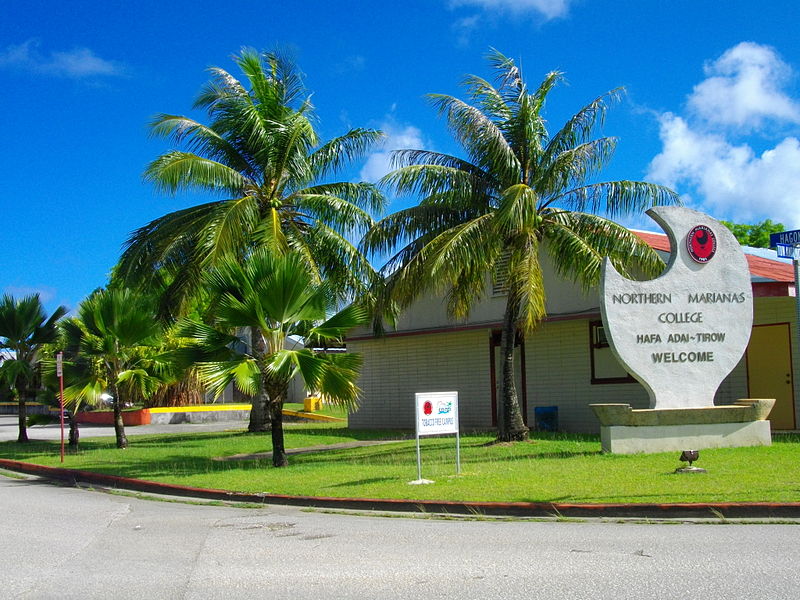 The Northern Mariana Islands of the West Pacific, located northeast of Guam, is a commonwealth and insular territory of the United States. The island is home to a limestone forest with coconuts, papayas, and hot peppers growing wild, making it an ideal place for stress-free education.
The Northern Marianas College is located in this tropical haven, and offers liberal arts, business, and nursing degrees at the associate's level, as well as education degree at the bachelor's level. At the Northeast Marianas College, in-state tuition rate is $3,078, and out-of-state tuitionis $4,560.
Did you know?
The Rota Instructional Site was put up by the Northern Marianas College to educate and train students and adults in this "Friendly Island" and improve their quality of life.

#4 – Texas A&M (Corpus Christi, Texas)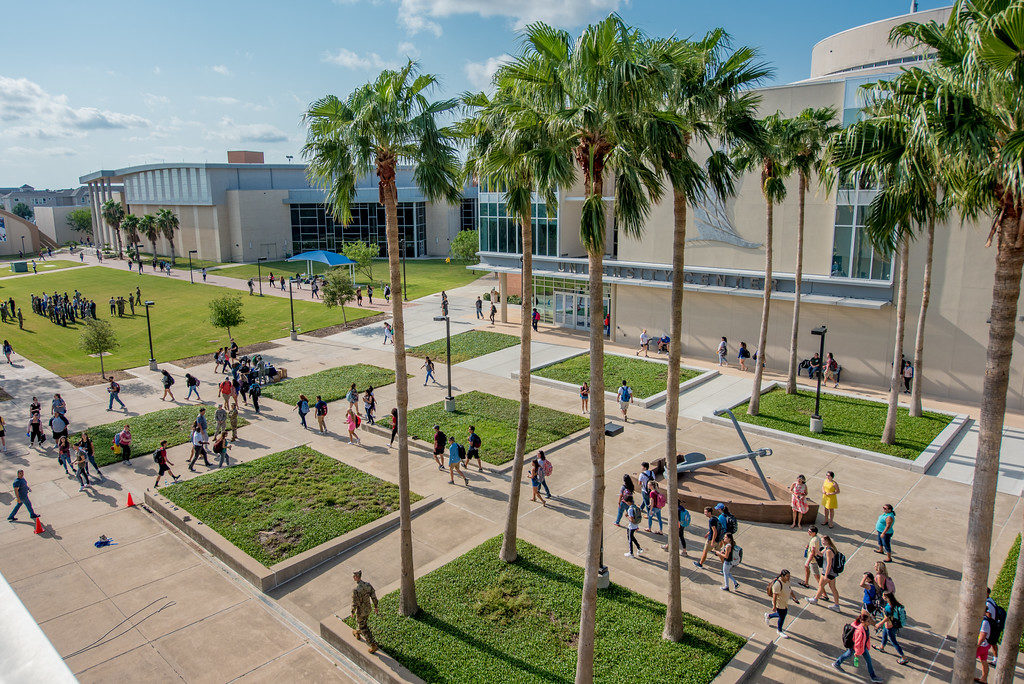 Texas A&M University – Corpus Christi is an "Island University" is situated at Ward Island in Oso Bay. Although close to Houston and Brownsville, TAMU-CC is the only university on its own island, which means students get to enjoy island activities like fishing, boating and windsurfing in the Gulf of Mexico.
At Texas A&M – Corpus Christi offers a wealth of bachelor's, master's and doctoral degrees in business, education, liberal arts, nursing and health Sciences, as well as science and engineering. Students pay in-state fees and tuition of $9,272 and out-of-state tuition and fees of $20,101.
Did you know?
TAMU-CC has 12,202 student enrollments each year with 2,247 of them living on-campus in two distinct housing communities: Miramar for freshmen and Momentum Village for established students. TAMU-CC says as opposed to being off-campus, living on-campus for at least one year make students more active in campus events, create a support network, and obtain higher GPA. They are also "more likely to graduate on time".

#5 – University of Guam (Mongilao, Guam)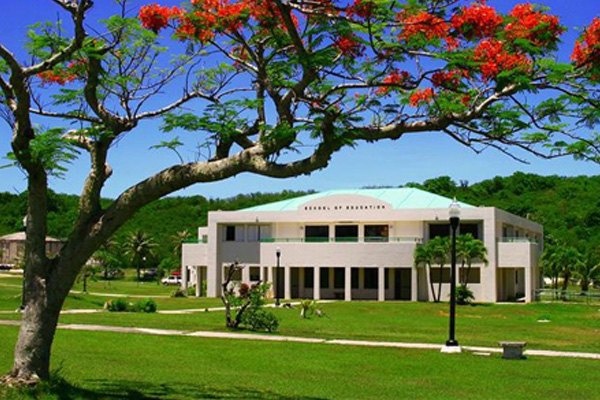 Guam is an "unincorporated and organized" United States territory and the largest island in Micronesia. Guam is not merely a primary U.S military base; it is a popular tourist attraction on its own. It is a place where people enjoy golf, admire the vast richness of its flora and fauna, go swimming, snorkeling, diving, or simply lounge on the sand and get sun-kissed.
The island is also home to University of Guam, the flagship higher education institution, that offers 34 undergraduate and 11 graduate degree programs. UOG houses a College of Liberal Arts & Social Sciences, College of Natural & Applied Sciences, School of Business & Public Administration, School of Education, School of Engineering, and School of Nursing & Health Sciences. In-state tuition rate at UOG is $5,804 while out-of-state tuition rate is $12,860.
Did you know?
As an open school, the University of Guam is home to students of different nationalities. UOG thrives in its diverse cultural background.

#6 – University of Hawaii at Manoa (Honolulu, Hawaii)

Hawaii brings to mind tropical scenery that captivate nature-loving people and offer an escape from the stress-inducing city rush. But besides the obvious, this island is also home to a top-rated university: The University of Hawaii at Manoa. Located three miles from Honolulu and a mile away from Waikiki, UH Manoa students come from diverse backgrounds: Asians, Caucasians, Hawaiians, part-Hawaiians, multiracial, international, Hispanics, African-Americans, American Indians, Alaskan Natives and more.
UH Manoa offers bachelor's degrees, master's derees' doctoral degrees, first professional degrees, post-baccalaureate degreees, as well as undergraduate and graduate certification programs in more than 90 fields. Students pay in-state tuition of $12,186 and out-of-state tuition of $34,218.
Did you know?
UH Manoa's campus grounds are "an accredited arboretum" that keeps an exceptional collection of rare plants and trees from Hawaii, the Pacific, and the tropics. The UH Campus Arboretum is open to the public and accepts donations for the UH Foundation.

#7 – University of the Virgin Islands (St. Thomas, U.S. Virgin Islands)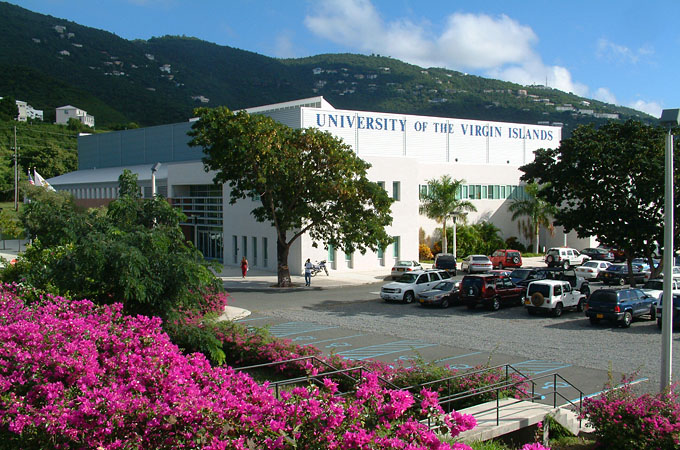 University of the Virgin Islands
The Virgin Islands, an organized and unincorporated US territory, consists of Caribbean islands and islets that are popular for exquisite t beaches, sublime shores, incredibly verdant hills, and rich reefs. It's no wonder why tourists flock to this paradise to rest, relax, and get bronzed! But the Virgin Islands is more than just a place for vacation; it takes pride in its top-rated higher institution for learning: the University of the Virgin Islands.
UVI maintains two campuses with a total of 2,500 students taking up any of the 47 associate's, bachelor's, and masters' degrees five colleges and schools. UVI residents' tuition rate is $5,235. Non-residents pay $14,496.
Did you know?
Melvin Claxton, winner of a Pulitzer Prize for Public Service (a yearly award for journalism). is a University of the Virgin Islands alumnus.

#8 Humboldt State University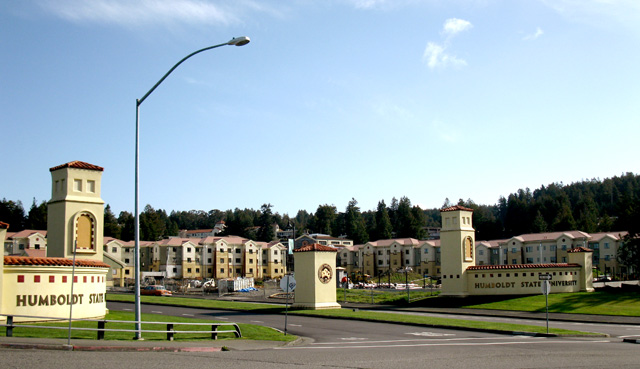 Arcata, California is home to Humboldt State University, located five miles from the Californian coast. The University offers 50 undergraduate degrees and dozens of Master's programs. Major studies include areas in Arts, Humanities, Social Sciences, Professional Studies, and Natural Resources and Sciences, giving students plenty of options. If you are into Oceanography, then this University is for you. Humboldt State University has an impressive Oceanography Research Institute. It houses the Schatz Energy Research center (SERC), focused on the research and development of renewable energy, energy efficiency, and hydrogen energy systems.
Most importantly, Humboldt is surrounded by the beautiful Redwood National and State Parks so students can enjoy the woods 24/7. If that is not enough to convince to enroll, you can also have a glimpse of the Pacific Ocean. Since it is surrounded by nature and the beach, it is no surprise that the school offers recreational activities that take advantage of its location. Students can go biking, hiking, camping, kayaking and surfing in their free time. It is a great place for retreats. Expect to go on weekend trips throughout your college life!
For the students who reside within the state, the tuition and fees amount to $7,864, while out-of-state tuition may reach $19,744.
Did you know?
Mike Patton, a singer, songwriter, and best known as the front man of Faith No More from 1988 to 1998 is an alumnus of Humboldt State University.

#9 San Diego State University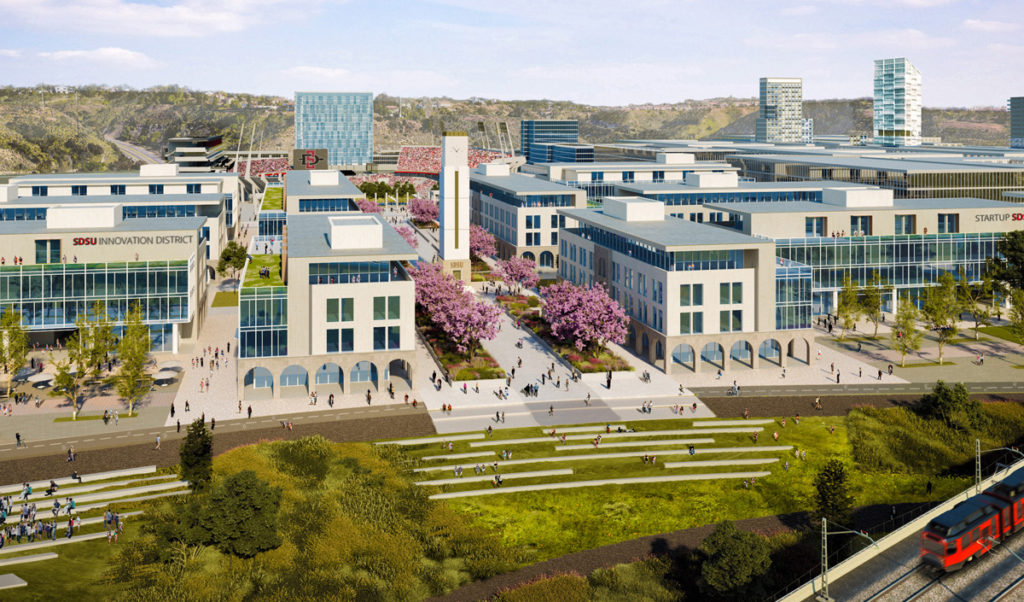 San Diego California is one of America's Finest Cities. Known for its white-sand beaches, parks, and warm climate, it is one of the country's top tourist destinations for thrill-seekers and adventurers. San Diego's coastal location gives a lot of excitement to visitors and residents alike. You can hike along the sandstone cliffs of Torrey Pines State Natural Reserve, take a walk along the Coronado Beach and admire the scenery at La Jolla Cove. And for students of San Diego State University, this is home. If you want to relax, the Mission Beach Jetty is just a few minutes away. Take a break from all your schoolwork, and take a long, relaxing walk to calm your mind and body.
The charm of San Diego State University definitely does not end there. First and foremost, the University is a public institution well-known for its business program and football team. It offers 96 bachelor degrees, 80 master degrees, and 21 doctoral degree programs.
The in-state tuition and fees amount to a total of $7,510 while out-of-state tuition and fees amount to $19,390.
Did you know?
Some of the scenes in the 2000 hit movie Bring it on, were filmed on the SDSU campus.

#10 University of North Carolina Wilmington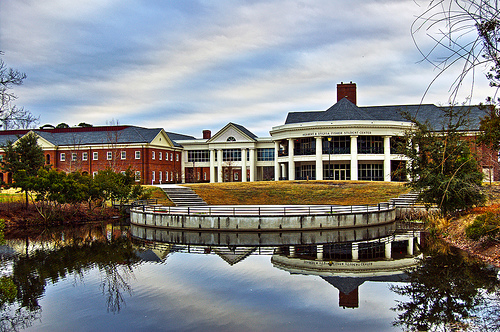 University of North Carolina Wilmington
The State of North Carolina has a lot to offer from museums, outdoor activities, theme parks to dazzling beaches. Its mountains transform into a ski park and tubing during winter months. During warm months, however, you can go hiking and bask in the beauty of the State's splendid foliage in the fall.
Wilmington is a riverfront city in the state of North Carolina and home to the University of North Carolina Wilmington. The university is known as one of the best beachfront colleges on the East Coast. A public university that offers a range of baccalaureate, graduate, and doctoral degrees. Students are lucky enough to be close to the riverwalk. It winds along the Cape Fear River and connects many of the city's shops, cafes, and hotels. You can always wine and dine while taking a break from the pressure of college. Three nearby island beaches offer water sport activities, dining and other recreations for when you need to feel active.
Its in-state tuition and fees amount to $7,181, while out-of-state tuition and fees can go up to $21,246.
Did you know?
The University's McNiell Hall can be transformed into a fully functioning hospital in case of an emergency or a natural disaster.

#11 Western Washington University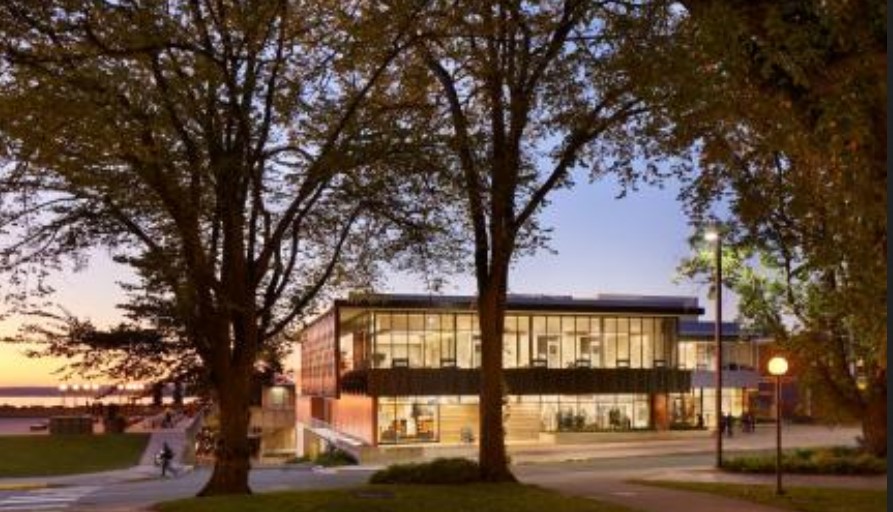 Bellingham, Washington is a city located near Bellingham Bay. Naturally, t is surrounded by a scenic nature view and a long line of beaches that offer activities like whale watching, cruising and visiting the Canadian City of Victoria. The city showcases its culture through its historical museums, restaurant, and fine arts. It is also where Western Washington University has forged great American minds.
Western Washington University (WWU), is a public University and one of the most affordable beachfront colleges in the country. The university offers a competitive Marine Biology and Marine Science Program. According to a recent ranking, it tops the ranking among many universities and public institutions which grants a master's degree in the Pacific Northwest. An accolade that WWU has maintained for the past 20 years.
Tuition varies from in-state and tuition and fees amount to $8,343 and out-of-state tuition and fees to $24,690.
Did you know?
The University shares its massive land area with an steam plant on campus, bringing steam to various parts of the campus through an underground tunnel. But that does not end there. One of its notable alumni is Robert Angel the creator of the game Pictionary. WWU alumni sure knows how to liven a game night!

#12 California Polytechnic State University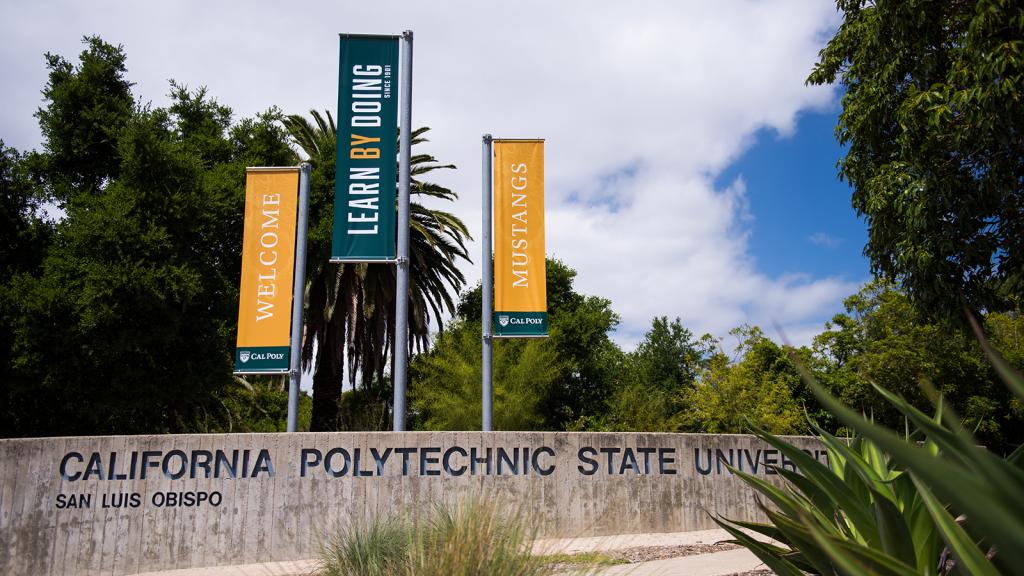 California Polytechnic State University
San Luis Obispo is located on California's Central Coast, a small town nestled in the foothills of the Santa Lucia Mountains. Like the universities on this list, students can engage in relaxing activities like strolling in tree-lined streets and chill out in sandy beaches and hot springs. You get to enjoy San Luis Obispo's Mediterranean climate.
The small town is where California Polytechnic State University perfectly mixes the demands of college and a relaxing atmosphere. Founded in 1901, the university is a public institution known for its academic performance. It offers both undergraduate and graduate studies ranging from 40 to 70 degrees to choose from. The University's Engineering program is among its popular majors among applicants. This is owing to its 80 state-of-the-art laboratories and 50 clubs dedicated only to its engineering program. An exciting part of the program is when engineering students get to participate in conceptualizing the float for the New Year's Rose Parade in Pasadena, Calif.
Its in-state tuition and fees amount to $9,943 and while tuition may reach $23,833 for out-of-state students.
Did you know?
The musician Weird Al Yankovic, and John Madden who is a retired pro football coach and sports commentator are both alumni of California Polytechnic State University.

#13 University of Wisconsin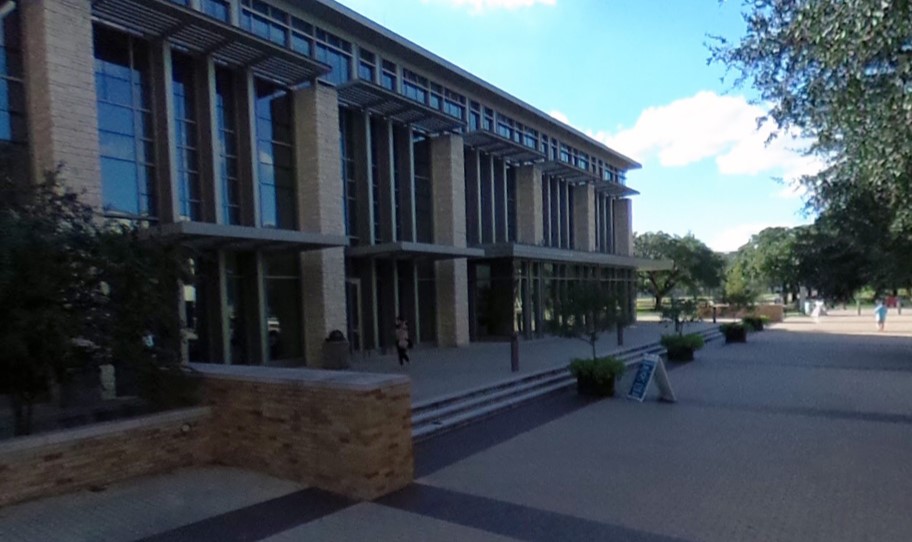 The University of Wisconsin-Madison is a public coastal college campus sitting along the shore of Lake Mendota. Students may engage in a lot of water sport activities like canoeing, fishing, kayaking, and even camping. The university offers more than 200 undergraduate majors and more than 250 graduate programs. It has numerous schools and colleges focusing on agricultural, life sciences, arts, business, education, engineering, medicine and a lot more. One of the priorities of the Institution is research. In fact, it allocates 1 billion dollars on research annually.
Like the other Universities in this list, the tuition and fees for students who reside in the state are $10,725 while its out-of-state tuition and fees amount to $37,785.
Did you know?
The famous people that are Wisconsin Alumni include glass artist Dale Chihuly, author Joyce Carol Oates, and former Vice President Dick Cheney.

#14 Old Dominion University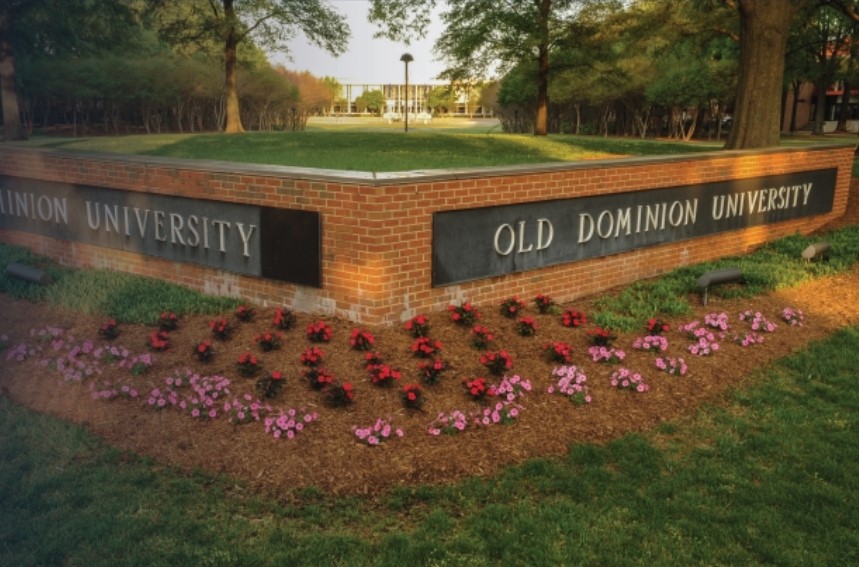 The City of Norfolk in Virginia is home to a massive naval base called Naval Station Norfolk and a maritime museum called Nauticus which features a huge WWII warship called Battleship Wisconsin. Apart from that, it is also home of one of the best colleges for students who love nature and beaches – Old Dominion University. Students can relax by gazing into the scenery of the river.
Old Dominion University (ODU) is nestled among rivers that converge in the Chesapeake Bay. The school offers more than 90 bachelor programs, more than 43 masters programs, as well as doctoral programs and programs that award graduate certificates. The university is also known to be Virginia's public doctoral research university. The school's initiative contributes $2.6 billion per annum to Virginia's economy. Its in-state tuition and fees range up to $11,212. However, tuition and fees may reach $30,840 for out-of-state tuition.
Did you know?
Nancy Lieberman, the first woman to coach a professional men's basketball team and the pioneer in women's basketball was a member of the Old Dominion University Lady Monarch basketball team.

#15 Texas A & M University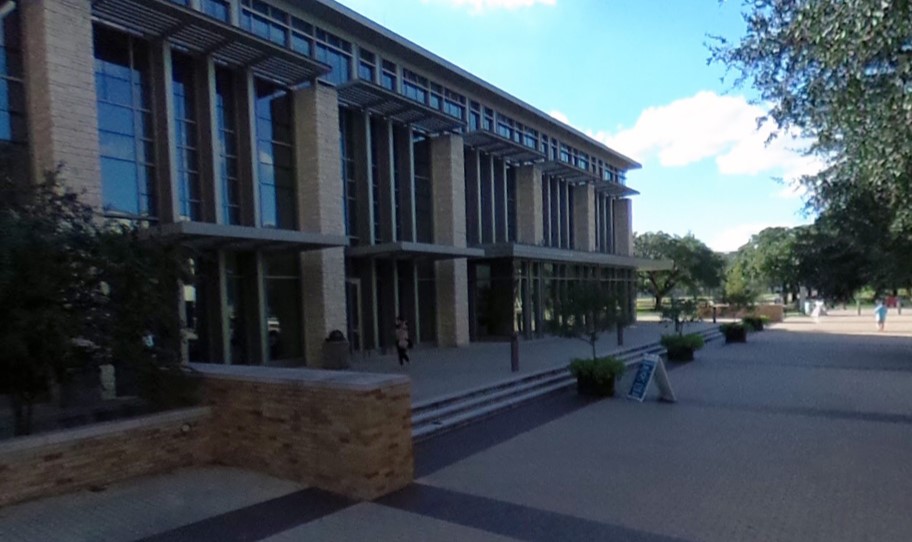 Corpus Christi, Texas is the most visited tourist destination in Texas. It has become popular because of its beautiful coast and natural scenic view of stunning landscapes. Apart from this, it is where Texas A and M University is located.
The Texas A and M University campus is comfortably situated between Corpus Christi Bay and Oso Bay. Taking advantage of its location, students can engage in activities like windsurfing, and water sports, swimming, fishing, boating, and sailing. Plus, the campus is located close to the country's third-largest ports, the Port of Corpus Christi. It is one of the busiest ports where various projects are transported and traded in bulk, a practice that is still profitable today.
The university is known for being an academic and athletic powerhouse in Central Texas. Previously called Texas Agricultural and Mechanical College, it was once an all-boys school. It is also known as a reputable research institution. Along with its undergraduate programs, the institution also offers highly-ranked graduate programs. In-state tuition and fees cost $12,153 while out-of-state tuition and fees may go up to $38,602.
Did you know?
U.S. representatives Joe Barton and Louie Gohmert proud Aggies, Texas A and M University alumni. Alumni also include Miss U.S.A. Kandace Krueger and Miss Louisiana U.S.A. Melissa McConnel.