Growing populations will require more care as they age, which will increase the healthcare sector. There are thousands of Baby Boomers retiring every day, born between 1946 and 1964.
But fortunately or unfortunately, the Millennials are outnumbering Baby Boomers, as America's largest population, in a study conducted by Pew Research Center. It means a large percentage of American workers carry the burden of the economy during their prime childbearing years.
Featured Programs
There will be an increasing demand for health professionals as large segments of the population reach retirement age, and others have growing families.
Having said that, if you have the calling for a health-related career, now's high time to grab opportunities to start applying for a hospital job.
Healthcare is one of the most in-demand US industries today. The healthcare industry continues to grow and expand even during recessions, unstable situations, and volatile job markets.
Healthcare occupations are projected to grow 13% more in the next coming decade, according to the US Bureau of Labor Statistics (BLS). Almost 2 million job openings are ready to be filled yearly, and it's only forecasted to grow even more.
However, some healthcare jobs require a master's degree, not just an associate's or bachelor's one. In some cases, you even need to finish a doctorate, such as those seeking to become genetic counselors or occupational therapy specialists.
Get to know what hospital jobs await you after you finish a master's degree program in your preferred specialty. 
---
The Lowdown

Earning an online master's degree is necessary for some high-paying jobs in the healthcare industry today. The skills you can learn in these programs equip you to be matched with the medical and technical requirements of being displaced in a clinic or hospital facility. Even when there are many vacancies in hospitals and medical institutions, it's time to boost your competitive advantage and qualify easily with a master's degree.
---
Medical Jobs That are High in Demand
The hospital jobs with the highest job outlook reported by the Bureau of Labor Statistics are nurse practitioners, nurse midwives, and nurse anesthetists.
The demand for these medical jobs is projected to skyrocket to 40 percent from 2021 to 2031. They work in different healthcare settings that range from hospitals, clinics, medical institutions, and physician offices.
Over the decade, medical careers such as nurse anesthetists, nurse midwives, and nurse practitioners will have an average of 30,200 openings annually. Openings will occur largely because workers shift to new occupations or retire, resulting in a need for replacements.
However, do note that these jobs that are high in demand usually require a master's degree in Advanced Practice Registered Nursing or APRN roles.
A national certification exam must also be passed, and the appropriate state license must be obtained to practice as community health workers, healthcare administrators, or health care professionals and assess a patient's medical history, treat medical conditions, or provide treatment plans and other healthcare services.
Does a Master's degree allow you to make more money?
You might have to invest a lot of money in a master's degree. The average master's degree costs between $30,000 to $40,000. But several factors influence such pricing. It's also worth noting that online master's programs are usually priced differently and are usually cheaper.
As a result, you must treat it as you would any other financial commitment. Make sure your investment is returning a profit. It would help to study and compare how much people in this field make compared to those without a master's degree.
According to the Bureau of Labor Statistics, people with master's earn more than those with bachelor's degrees and even more than those with a high school diploma. And you also have to factor in that some medical jobs would make a master's degree a requirement.
It may be a question of whether it's more profitable for you, but remember, it is also a matter of being qualified to work in that medical position.
However, considering the hefty median annual salaries of health care jobs and hospital work in the US, it's fair to say that a master's degree is worth it!
Benefits of Getting a Master's Degree in a Medical Field
A medical career can be financially and professionally rewarding if you earn an advanced degree. Medical professions generally pay higher salaries to employees with master's degrees than to those without degrees or with bachelor's degrees. Master's degrees open up more career opportunities and allow you to assume greater responsibilities.
Depending on your degree, you may be able to find a position you enjoy and excel at more quickly than your peers. Nursing, for example, often requires master's degrees to qualify for management or supervisory positions.
It is possible to obtain these benefits with a master's degree while requiring less time in school than with a doctorate or medical degree.
This high level of education is sufficient for you to treat patients, assist them directly, make medical recommendations, and study and analyze data.
---
Today's 15 Hospital Jobs that Require a Master's Degree
Nurse Practitioner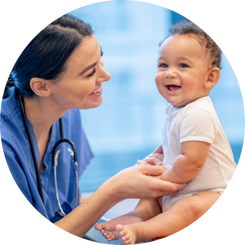 University of North Georgia
Dahlonega, Georgia
A nurse practitioner is a registered nurse with additional education. Aside from taking patient histories, performing physical exams, ordering lab tests, analyzing lab results, prescribing medicines, authorizing treatments, and educating patients and families, extra schooling allows these professionals to perform more complex tasks.
They can be trained to specialize in areas such as women's health, family, or pediatrics. Academic or research careers are also possible for them. Simply put, nurses provide primary health care for patients.
Learn more about the University of North Georgia's MS in Family Nurse Practitioner program.
---
Physician Assistant
Stanford University
Stanford, California
A physician assistant is a healthcare worker who works closely with a surgeon, a doctor, and other healthcare professionals. The medical histories of patients are taken or reviewed by them. Their capabilities include ordering diagnostic tests as well as interpreting the results.
Physician assistants can diagnose and treat patients with injuries or illnesses when they come to see them.
Physician assistants can also help patients manage their conditions by teaching them how to do so. Furthermore, they can prescribe medications and ensure that patients receive the best care.
Physician assistants also carry out outreach programs. Psychiatric care, emergency rooms, operating rooms, doctors' offices, and doctors' offices are all places where they usually work in. A master's degree is required to qualify as a physician assistant.
Learn more about Stanford University's MS in Physician Assistant Studies degree program.
---
Chief Nursing Officer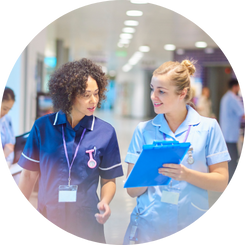 Regis College
Weston, Massachusetts
Nurses who work as chief nursing officers are called lead nurses. Nursing assistants, RNs, and licensed practical nurses are under their supervision. The chief nursing officer coordinates work schedules and find backup care when a nurse cannot work.
Patients' families are often the subject of difficult conversations between chief nursing officers and their patients. They commonly intervene until security or a doctor arrives when patients' safety is at risk.
Nursing chiefs must be capable of leading, managing, and communicating well. Also, they should have a master's degree in healthcare administration. 
Learn more about Regis College's online Master of Health Administration degree program.
---
Nurse Anesthetist
Westminster College
Salt Lake City, Utah
A nurse anesthetist collaborates with an anesthesiologist. These professionals perform a preliminary patient screening to assess the risk of an adverse reaction to pain medication. As part of their job duties, they are often responsible for administering anesthesia to patients before and during surgery.
The National Certifying Exam (NCE) is available to graduates of a Master's program in Nurse Anesthesia. In the state(s) of your choosing, graduates can become Certified Registered Nurse Anesthetists after passing the NCE.
As soon as a patient is discharged from surgery, these professionals pay close attention to them and notify doctors if any problems arise. 
Learn more about Westminster College's Master of Science in Nurse Anesthesia degree program.
---
Physical Therapist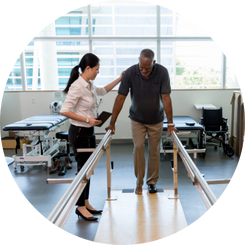 New York University
New York, New York
In physical therapy (PT), patients are helped to improve their ability to move. A physical therapist can assist a patient with pain management. Rehabilitation facilities are typically where PTs work with patients. Chronically ill or injured people can also benefit from their services.
Patients of the physical therapist range in age from infants to seniors. People who suffer from arthritis, strains, sprains, or amputations also require the services of a physical therapist.
As a physical therapist, you are trained to read notes written by surgeons, doctors, and other healthcare professionals. Physical therapists may use other techniques to diagnose patients' abilities to move and review their medical histories. Usually, a master's degree in physical therapy is required for educational attainment.
Learn more about New York University's Master of Arts in Physical Therapy degree program.
---
Certified Nurse Midwife
George Washington University
Washington, DC
Nurse midwives give women and their newborn children prenatal and postnatal care. They also provide sexual and reproductive care to the parent's partner and educate parents about healthy living. A master's degree in nursing, specializing in midwifery, is typically required for these professionals.
Students must be licensed as registered nurses and certified by the American Midwifery Certification Board to practice. An MSN with a specialty in midwifery is required to become a certified nurse midwife (CNM). You should choose a program that fits your goals, timetable, and career path.
Learn more about George Washington University's Master of Science in Nursing in Nurse-Midwifery degree program.
---
Occupational Therapist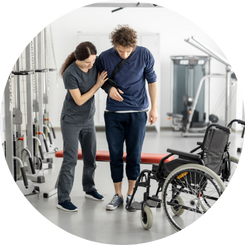 Elmhurst University
Elmhurst, Illinois
Occupational therapists treat patients with injuries, illnesses, or disabilities by using everyday activities to treat them. In this job, you'll help patients develop, recover, and improve their daily living and working skills.
Students with bachelor's degrees in other fields can apply for direct-entry MOT programs. It combines preparation for licensure with advanced training in a graduate-level specialty area.
For occupational therapists to become practitioners, a master's degree is required, and admission to programs is competitive. On average, it takes two and a half years to complete a master's program.
Learn more about Elmhurst University's Master of Occupational Therapy degree program.
---
Nurse Educator
Drexel University
Philadelphia, Pennsylvania
A nurse educator's responsibility is to train and educate nursing staff at a hospital or healthcare facility. By presenting materials and best practices, they communicate organizational standards of care. Nurse educators may also conduct performance reviews for nursing staff and other staff members.
Becoming a nurse educator might be a good idea if you are interested in the future of nursing and enjoy teaching. Nursing educators serve as mentors and role models to nursing students at junior colleges, universities, and professional schools, and they influence the evolution of healthcare and nursing.
Whether in a classroom or clinical setting, nurse educators educate nurses about nursing issues and patient care. 
Learn more about Drexel University's Online Master's in Nursing Education degree program.
---
Mental Health Therapist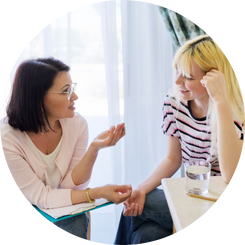 Walden University
Minneapolis, Minnesota
Professionals with master's degrees in mental health counseling are known as mental health therapists. The National Board for Certified Counselors requires mental health counselors to become licensed. Anxiety, depression, and post-traumatic stress disorder are among the mental health conditions they treat.
You should consider first what kind of therapy you would like to provide if you want to become a therapist. In most specialties, a master's degree is the minimum requirement, but more education may be required in some areas. Taking state licensure exams requires you to meet prerequisites for practice and obtaining a license.
Learn more about the Walden University (Online) Master's in Clinical Mental Health Counseling degree program.
---
Biomedical Engineer
Columbia University
New York, New York
Biomedical engineers design various medical equipment, including surgical instruments, tools, and diagnostic machines. Additionally, they install and maintain equipment for facilities and organizations.
Biological, engineering, and medical sciences are all studied by biomedical engineers. Such broad experience allows biomedical engineers to work in hospitals, government bodies, industry, and academia. 
Learn more about Columbia University's Master of Science in Biomedical Engineering degree program.
---
Healthcare Manager
University of Michigan
Arbor, Michigan
Managing healthcare facilities and clinics is the responsibility of healthcare managers. In addition to overseeing billing and patient records, they may also supervise front-office employees and budgets. Master's degrees in public health or business administration are often required for healthcare managers.
The first step to entering a rapidly growing field is completing a post-secondary education program that prepares students for the complexities of the field. When it comes to becoming a behind-the-scenes administrator or manager in the healthcare arena, there are several paths you can take.
A Master's degree can help open doors in the field, but undergraduate degrees can be sufficient for entry-level professionals. 
Learn more about the University of Michigan's (Online) MS in Healthcare Management degree program.
---
Clinical Nurse Specialist
Rush University
Chicago, Illinois
A clinical nurse specialist provides leadership, researches, and performs advanced nursing duties. Most employers prefer job candidates with doctorates, but some require master's degrees and licensure.
Clinical nurse specialists supervise nursing practices and procedures in hospitals, nursing homes, and clinics. Monitoring compliance and health outcomes ensure the quality of patient care.
A clinical nurse specialist must constantly stay up-to-date on clinical nursing standards to implement them in their facilities.
Learn more about Rush University's MSN Nursing Leadership: Clinical Nurse Leader for RNs degree program.
---
Clinical Trial Manager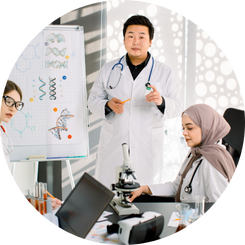 The City of University of New York
New York, New York
Managing clinical trials involves overseeing the processes and organizational systems, and this is a common role among clinical trial managers. Results are documented, data is analyzed, and guidelines are followed.
Studies in biology, nursing, or business are common among clinical trial managers. Many of these workers hold a master's degree to compete in the job market of the clinical trials industry.
Learn more about CUNY's Master of Science in Clinical Trial Management degree program.
---
Biostatistician
Boston University
Boston, Massachussetts
Those interested in medicine but not in becoming healthcare providers can choose a career as a biostatistician. As a career in biology and medicine, numerous topics can be researched.
Many biostatisticians work in government, nonprofits, academia, and technology settings without working in clinical settings. So if you want to partake in the research industry, this is a great medical job. 
Learn more about Boston University's Master of Science in Biostatistics degree program.
---
Nurse Researcher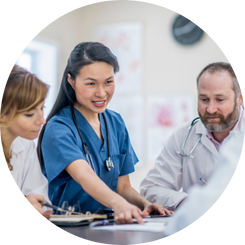 Pennwest California
California, Pennsylvania
A nurse researcher performs research or works with patients who participate in medical research to ensure their well-being and collect data for the project.
As a nurse researcher, you can use your nursing expertise to make discoveries, care for patient's rights, and be detail-oriented. Research organizations and hospitals hire nurse researchers as nurses.
Researchers may conduct original research to improve nursing practice, administer research studies, or care for research participants.
Becoming a nurse researcher is a great career choice when you want to combine research and patient care. Nurse researchers must also possess strong analytical skills, the ability to analyze data and recognize patterns and unusual results, and the ability to communicate with academics and patients.
Learn more about Pennwest California's Master of Science in Nursing degree program.
Summary Points
A master's degree education is usually an educational requirement if you intend to pursue a career in the abovementioned job positions.
By being equipped with a master's degree in your specialty, you'll be able to sharpen your hard and soft skills that are matched in today's medical environments and culture.
As we head into 2023 and beyond, the healthcare industry is expected to continue growing, primarily because of an aging population and increased healthcare demands. Hence, now's the best time to start paving your career in the healthcare industry.
---
Additional Resources: