If you are searching for a way to broaden your horizons, we have researched the best free online teaching and education classes for your review! The world needs more people who are skilled in the field of teaching and education. We need competent teachers now more than ever, and education courses and training help to shape the best professionals.
Education as a degree is interdisciplinary and broad-based, which is why your job possibilities are endless! And, what's better than free online classes?

THE LOWDOWN:
Learning never stops! Educators, as well as students, thrive when gaining new knowledge and skills. This list of online teaching and education classes is free! Depending on your desired teaching level or subject matter, taking advantage of free online education and resources is the way to go. Motivating students through your knowledge will inspire them to learn… more!
Quick Navigation
READ: 20 Free Continuing Education Courses for Teachers
The Top 12 Free Online Teaching and Education Courses
The nature of a degree in Education and Teaching can lead you to so many opportunities in numerous sectors. You can get jobs in private or public education institutions, business or corporate jobs, nonprofits, and even service organizations. You can also secure a job in education policy, program development, or law. You might even teach in private schools or pursue graduate studies.
If you have a vision of the career path you wish to take–and education is in your plans — it is in your best interest to not only earn a formal degree but also sign up for courses that enhance your competencies or update your skills! Online teaching and education courses will give you the necessary tools for applying and integrating systematic knowledge to help institutions and individuals.
These free online courses explore the teaching career from both a theoretical and applied perspective. Here are some free online courses for teaching and education that you might want to try.
Classes for Beginners
Relay Graduate School of Education, via Coursera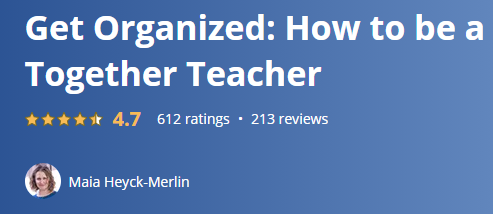 This free online course is perfect for classroom teachers who have difficulty juggling time-consuming tasks and exhausting teaching schedules. The course studies the importance of planning and gives you tools for tracking deadlines, tasks, and commitments. With a goal of long-term sustainability, this course also helps you grow a personal organization system that interacts with your daily practices. Whether you are a pen and paper list maker type of teacher, or a tech-savvy digital instructor, you can benefit from this simple but effective approach to 'togetherness' that you can learn from the course.
After the course, you will learn more about:
The difference between organization and togetherness
How to survey your teaching skills, weaknesses and strengths
Learn how to create a timetable for the next 5-7 days
Understand the importance of creating a comprehensive calendar
Learn how to do an upcoming to-do list and random ditch lists
Best Features:
100% online and free course materials
Flexible deadlines
Shareable Certificates
Takes about 8 hours to complete
Taught by Maia Heyck-Merlin, Adjunct Professor, Relay Graduate School of Education
---
The University of Colorado Boulder, via Coursera

This free online education course studies the established teacher SEL (social and emotional learning) programs and other alternative possibilities. Upon completion of the course, you will:
Learn more about the Enter for Courage and Renewals "Leading Together" program—a program that summons communication and trust in a school's adult community
Study practical ways in reducing anxiety and stress commonly experienced among teachers
Understand how narratives (fiction, film, etc.) are used in exploring your humanity in teaching. These narratives also offer insights into your role as a teacher and come up with a richer and fuller understanding of your students
Study how important it is that you understand how your student's life affects his time in school
Take note that this is course 4 of the 5-course SEL specialization offered by the University of Colorado-Boulder. All the courses are designed with a 3-unit university credit course load. This is highly recommended if you wish to work with your people or look for other ways to improve the education system further. Foster your teaching skills through this program.
Best Features:
100% online and free
Flexible deadlines
Shareable Certificate
Suitable for Advanced-Level learners
Taught by Dan Liston, Professor from the School of Education, University of Colorado Boulder, and Randy Testa, Associate Director PreK-16 Programs from the Harvard Graduate School of Education.
---
Relay Graduate School, via edX

These online courses give the best examples of how you can integrate character development through teacher feedback positively and encouragingly that develops self-efficacy and resiliency. This will help you find out the principal ideas of positive psychology and show you how great teachers should apply those lessons to maximize the student's accomplishments and engagements. Via discussions, footage of great teachers in action, and interviews, you will learn how to incorporate character-based objectives in your teaching.
Syllabus of the Course:
Your Character Journey. This is where you start your character exploration.
The Science of Character. This explores the base of the research that supports the teaching of character.
Teaching Character in Every Moment. You will study here how character education begins with your approach to every human interaction.
Macro Structures. Here, you will create a plan for teaching character. From there, you work on this plan every day to make it happen.
Talking About Character Growth. Nobody can master something like gratitude or grit. Your main goal, however, is to incorporate these lessons into your daily lives.
Best Features:
100% online and free
Paid Certificate available
The course is five weeks long, 10 hours worth of material
All the sources are educational and concise
Not only good for the teacher, but also for parents who wish to strengthen the character of their children
Taught by Relay GSE Co-Founder, Dave Levin
---
Arizona State University, via Coursera

This is one of two specializations that make up Arizona State University's TESOL Certificate. You will learn about the fundamental principles of language acquisition and the basic methods founded on these principles. In this free online course, you will:
Learn the basic methods of language learning
Create learning activities and lesson plans
Apply the best practices for speaking, listening, teaching, and pronunciation
Learn how to keep your classroom controlled and avoid getting burnt out
These free online courses describe theories of foreign languages and teach you the basics of second language acquisition with their pedagogical implication. This further elaborates on the basic design for lesson plans, plus it gives you access to helpful and professional resources. During the final Capstone Project, along with ASU's Global Launch, you get to apply all the skills you learned from the course by creating a lesson plan that includes assessments, techniques in classroom management, and learning activities.
Best Features:
100% online and free
Shareable Certificate
Suitable for beginners
Takes six months to complete
Flexible schedules
Handled by 5 of the best industry experts: Jessica Cinco, Dr. Justin Shewell, Andrea Murau Haraway, Dr. Shane Dixon, and Emilia Garcia
---
Classes for Intermediate Learners
University of California, Irvine, via Coursera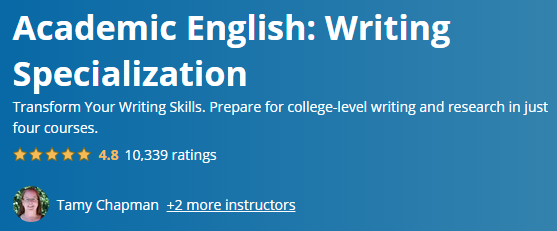 The teaching skills you will learn in this specialized course will enable you to succeed in the professional field or any college-level course. You are taught how to conduct challenging academic research and learn how to express your ideas clearly and precisely in an academic format. There are five courses in this specialization:
Course 1: Grammar and Punctuation. This is a refresher course on the tools you need to become a good writer. This will prepare you for the other courses that follow. You need 10 hours to complete the course.
Course 2: Getting Started with Essay Writing. Here, you are introduced to the three types of academic essays. The course is designed to gear you for work in college classes.
Course 3: Advanced Writing. This course teaches you to plan and write an argument essay in a more sophisticated manner. You can identify plagiarism and explain how you can avoid it.
Course 4: Intro to Research for Essay Writing. After you complete this course, it will be easier for you to choose research topics. You can now take and organize good notes for research and use the right academic tone and language when writing.
Course 5: Project: Writing a Research Paper. This is the Capstone Project of this specialization class. This is where you will apply all the things you have learned. You get to conduct research on an academic topic of your choice, write a short annotated bibliography to evaluate your sources and make an outline that you will use to plan your essay.
Best Features:
100% online course and free
Shareable Certificate
Flexible schedule
Takes about six months to complete
There are paid versions so you can join quizzes
Taught by Tamy Chapman, Instructor for International Programs, University of California Irvine Division of Continuing Education, Helen Nam, and Brad Gilpin
---
The University of Pennsylvania, via edX

This course studies different key issues that teachers must know and understand about teaching in the digital age. This 6-week course looks at how online learning differs from traditional ways of teaching. You will explore how most digital practices of today's students are continuously changing and understand that there are major considerations you need to adhere to as you design learning environments that are both student-centered and engaging.
You will study the many ways in which education is evolving and how the roles of teachers have slowly changed in the digital world. This free online course also reviews the interesting history of online learning and the key characteristics of successful online learning spaces. Digital literacies are also discussed, along with understanding the difference between paper-based and online reading and writing and what implications this has for studying.
Best Features:
100% online and free course
Six weeks long, at 3-4 hours per week
Free Certificate, you can get a Verified Certificate for $49
Instructor-led
No prerequisites
---
The University of Houston System, via Coursera

This is another free online course perfect for beginners. This course will teach you a wide variety of Web 2.0 tools to use in your learning and teaching. Web 2.0 tools offer modern ways to present content, communicate, and collaborate with others in fun and interestingly creative ways. The online teaching tools are easy to use, learn, and implement, and most of them are free.
The course not only introduces you to popular tools in Web 2.0 like Twitter, Edmodo, Voicethread, and Skype in K-16 instruction. It also teaches you how to incorporate these modern-day technologies into your class activities and eventually helps you achieve fun and engaging student activities.
Best Features:
100% online and free
Paid Certificate Available
The course is five weeks long, with 14 hours worth of material
Perfect for beginners
Taught by Bernard R. Robin, Associate Professor, University of Houston
---
University of California, Irvine, via Coursera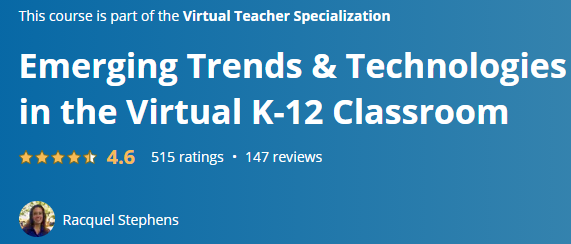 This course offered by the University of California, Irvine, Division of Continuing Education, and delivered thru Coursera, is part of the Virtual Teacher Specialization course. This helps you check and implement modern and digital technologies in the most useful way in a virtual classroom setting. You will understand the possibilities of using technology in fully online environments, although most of these ideas can be applied to traditional and blended environments as well.
This 7-hour course is concentrated on the developing trends and technologies, especially for K-12 teachers. The online classes provide course content aimed at high-school-aged US students or those 13-18 years old in other countries. This also focuses on virtual education, which could be fully online or blended teaching and learning experiences. Still, you can use the concepts of conventional class, higher education, or adult education.
Best Features:
100% online and free
Flexible Deadlines
Shareable Certificate
It can be done in 7 hours
This free online course is recommended for educational technology, instructional materials, collaboration, and open resources educational materials.
---
Classes for Advanced Learners
University of California, Irvine, via Coursera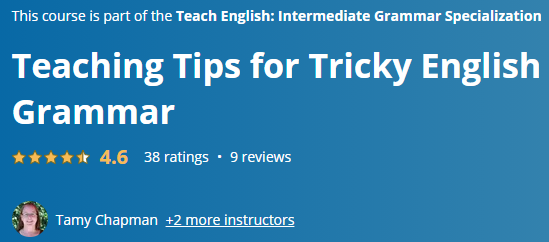 This course is a part of the Teaching English: Intermediate Grammar Specialization and is very useful for ESL teachers or those who want to learn how to teach the English language correctly. It uncovers and resolves the major problems students encounter while learning intermediate grammar. You will further understand why students often have trouble with tricky grammar. From there, you can then find ways to help the students correct their common grammar mistakes.
Online teaching courses in grammar provide different activities for teaching that are fun and interesting. And to practice the skills you learned during the course, you have the chance to create sample assignments and record short clips of your video demos using a webcam, video cam, and a smartphone. These online teaching tools are invaluable!
Best Features:
100% online and free
Shareable Certificate
Ideal for the intermediate-level learners
20 hours to complete
Graded quizzes available for the paid version of the course
---
University of California San Diego, via Coursera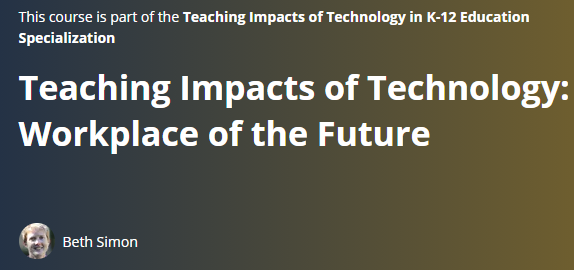 This course strongly focuses on how the Internet has allowed better careers and significantly changed people's expectations regarding work settings. This course helps you create a better and newer vision for the future workplace from a traditional setup. This free online course focuses on the impact of computing concepts, organized into five different digital "worlds." Once you complete this, you are prepared to handle pre-college classes and help them become savvy and effective students in their digital world.
Syllabus includes:
Getting a Job in New Ways
Physical Ties to Work
Advancing Your Career in the Technical World
Impacts of Computing and Pedagogy
Best Features:
100% online and free course materials
Paid Certificate Available
The course is four weeks long, 12 hours worth of material
Suitable for beginners
Taught by Beth Simon, Teaching Professor, UC San Diego
---
John Hopkins University, via Coursera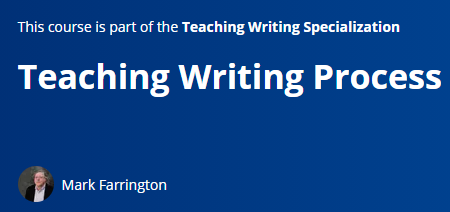 Online teaching courses show how instruction in writing can increase students' comfort level and confidence as writers. You will study the different methods for teaching writing as discovery. You will also learn how to handle your students using low-stakes writing and reflection in their studies. The course syllabus includes:
Module 1: Inviting Writing. You will study the many ways to "invite writing" from your students. You identify the benefits and characteristics of adding low-stakes writing to the more basic approach of using writing as testing.
Module 2: What Kind of Teacher do You Want to Be?
Module 3: The Writing Process
Module 4: Writing and Reflection
Best Features:
100% online and free
Flexible Deadlines
Shareable Certificate
Ideal for Beginners
20 hours to complete
Handled by John Hopkin's University's Assistant Director in Teaching Writing Program, Mark Farrington
---
The University of Michigan, via Coursera

This course is created for higher education faculty, graduate student instructors, and lecturers, although this is also applicable to teachers in various instructional environments. Resilient teaching is defined as the ability to conduct learning experiences designed to adapt to different disruptions and conditions. This is aimed at educators who are asked to rethink how they will teach in the future because of the ever-changing circumstances of today's COVID-19 pandemic. While this course is borne out of the current health crises, this is expected to remain important to instructors who are faced with disruptions and are bound to change their teachings methods for different reasons.
Since this course is relatively new, new journaling tools are introduced within the course. It is aimed to provide a place for participants to think about their own teaching experiences. Everyone is encouraged to share their journal entries with the wider community for community growth.
Best Features:
100% online and free
Paid Certificate Available
Four weeks long, 20 hours worth of material
Ideal for intermediate-level enrollees

Frequently Asked Questions
What is Education?
Education is the study of the process of giving and receiving systematic instructions. As a course, education combines theoretical grounding in anthropology, history, sociology, psychology and human development, sociology, economics, and applied teaching methods.
Several degrees specialize in different areas such as health and physical education, early childhood development, primary teaching, secondary teaching, or vocational education teaching. Education degrees also allow you to specialize in a specific subject matter.
When you have a degree in teaching and education, you get to have several transferable skills like your ability to communicate and work with children, better written and oral communication, analytical and research skills, information and communications technology savviness, self-management, teamwork ability, time management skills, and organization skills. Plus, these online courses help you create curricula, target the student's learning capacity, plan lessons, and create a dynamic and healthy learning environment.
Why Should You Invest in a Teaching and Education Career?
Without a doubt, teaching is one of the noblest and most rewarding jobs today. Teachers have a massive bearing on the lives of students. Here are some reasons why investing in a teaching and education career is a wise choice.
You Help Shape the Next Generation.
As a teacher, this gives you the privilege and opportunity to impact society by molding the next generation by giving them the necessary tools and knowledge to make their own opinions, influence society, and contribute to the future.
There is so much more to teaching than simply teaching basic subject materials. It is your job as a teacher to teach teamwork, encourage initiative, and build self-esteem. Plus, your being a teacher could also make you become a friend and a confidante to your student—something that plays a huge role in the child's emotional development
You Build Leadership Skills to Advance your Career.
Whether you are planning to pursue a management position or you wish to work through the ranks as a teacher, leadership skills are important parts of your career as an educator. According to a LinkedIn survey conducted in 2018 of 2,000 business leaders, 57% said soft skills are critical in their hiring decisions. Of the many soft skills assessed, a good leadership skill was the top-rated one valued by most employers.
You Feel Connected.
Psychiatrist Dr. Robert Waldinger, director of the Adult Development and Personal Happiness study, said that loneliness kills. He attested that happier, healthier, and live longer lives are socially connected to their friends and families. Those who have little connections are less happy, less healthy, and die younger.
Because a school is a social entity, your constant communication with your co-teacher, students, and parents will make you feel socially connected and that you will never be left feeling alone. Every day, you relate to young adults and children with constant engagement and interaction. Lastly, you will have a whole team of teachers that will become your solid teaching support network. There will never be a dull moment! You're not alone while you participate in online courses!
You Make a Huge Difference to your Students.
Every child is unique—different socio-economic status, family background, academic capacity, personal strengths and weaknesses, and social skills. There are kinds of concentration, learning, or memory disabilities like dyscalculia, dyslexia, dysgraphia, and ADHD.
Suppose you're able to help kids suffering from these disabilities achieve good grades thru alternative learning methods. In that case, you can significantly change the child's life direction and help them boost their self-esteem. If you can help kids with problems in their social skills, you can change the overall school experience of these kids and bring them friendship and happiness into their lives. Teachers can make a difference in a child's life.
You Teach and Learn at the Same Time.
Children, especially the younger ones, are very curious. They will ask you so many questions, and you must know the answers. As a teacher, you have to constantly learn to satisfy your class's thirst for knowledge and curiosity.
Whether you are honing your mathematical skills, brushing up your knowledge of historical events, or improving your French skills, your knowledge base must constantly increase. These learnings will help you become more confident in your class.
Job Security and Holidays.
Teachers have a handful of paid holidays, including two whole months during summer, something you cannot get from any other profession. This gives you enough time to recharge, rest and spend more time with your family. Also, your workday is relatively shorter than those of your office counterparts, who usually have 9-5 daily shifts. Some even work overtime until late in the evening. A teacher's day ends earlier in most cases, thus giving you plenty of time for other important things in your life.
You Can Work Independently.
Your being a teacher means you are your boss. Although you will work within a school system, follow a structured curriculum, and monitor at some point within your classroom, you can work independently and make your own decisions. How you make your lesson plans, how you engage and interact and engage with your students, and how you assess and manage them—all these things solely depend on you.
Your job as a teacher is not micromanaged. You are largely autonomous. One study conducted by Birmingham University said that employees with higher levels of autonomy in their workplaces tend to have higher job satisfaction levels and better general well-being.
You Have the Best Choice of Career Options.
Education and teaching professions have so many options. You can teach in grade school, high school, or Adult and Communicated Education. You can opt to specialize in Math, English, Science, Art, Literature, Music, or Special Education, based on where your passions lie.
Other alternative options include School Administrator, Librarian, Career Guidance Counsellor, or even a substitute teacher if you prefer more flexibility. To secure a more senior position like a professor or principal, you will need a Master of Education, which you can secure on different online platforms while simultaneously working your way up the teaching ranks.

Benefits of Online Learning for Teachers
Even before COVID 19 changed the norms of schooling, online learning has been used by many. Gone were those days when you could only get a degree by attending physically in a university or college campus. Whether you are a returning education student or wish to earn your Masters's in education, there are many undeniable benefits to online learning.
Lower Cost for the Same Degree.
Online courses can help you save money. At many colleges and universities, the tuition cost for an online course is slightly less than the actual cost of an on-campus version of the same program. But even in some instances where this is not the case, studying online courses can still help you save so much in other ways. You won't have to pay for meal plans or housing. Your fees are lower, and the cost of commuting is gone. Sometimes, books are even less expensive, especially if they are offered in digital format.
Flexible Schedules.
This is perhaps the most favorite advantage of attending online classes. Signing up for free online courses means you can fit your classes around your life and not the other way around. Traditional on-campus programs usually have classes at the same time each week. In an online setting, you can simply watch lectures anytime you want. Online classes work with your schedules and not against them.
More Free Time.
Because you will not commute to and from the campus to attend your online classes, you can have more free time in your schedule. Just like traditional on-campus classes, online courses need a lot of studying. You can use this free time to work on your coursework or even have some time to relax.
---
Key Takeaway
Today, online education courses have become the new normal. Thankfully, there are so many different benefits you get when you enroll in one of these free online courses. As long as you commit yourself to the coursework and keep your eyes on your personal goals, you can reap the benefits of completing an online college course. Check out these online courses to improve your teaching methods!
---
Other FREE classes: