Those in the legal profession know how important it is to stay updated with the latest laws and developments. The continuing legal education program for lawyers is crucial in the legal profession not only because of the CLE credits but also because it can help improve the lawyers' standing in their profession.
Simply put, the American Bar Association asserts that the on-demand CLEs legal topics will help practicing attorneys stay updated on the latest developments in the legal profession, as well as sharpen their skills.
The Lowdown

For some attorneys, CLE compliance seems bothersome. Others feel that continuing legal education (CLE) programs will demand too much of their time– time that they can use instead either to meet or advise new clients, set meetings with their employees, spend time with their families, sign long overdue documents or any other important matters.

Thankfully, attorneys can now obtain their CLE credits online. And the best part? There are so many on-demand courses today that are free via live webinars, pre-recorded lectures, and the like.
---
5 Free Continuing Education (CE) Courses for Lawyers
Featured Programs
For those who are in search of a webinar to comply with their MCLE credits, here are ten online resources that don't require payments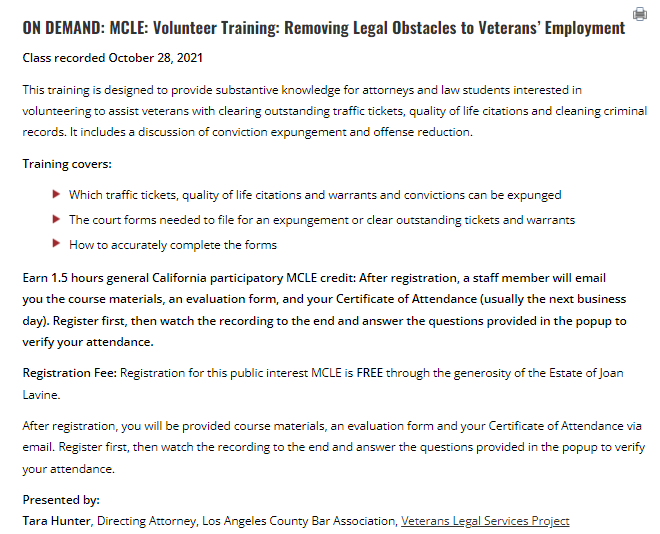 Provider: L.A. Law Library
This is an on-demand MCLE course that was first recorded on October 28, 2021, and presented by Tara Hunter, the Directing Attorney of the Los Angeles Bar Association.
The course is designed to give substantive knowledge to attorneys and law students who wish to learn more about volunteering to assist veterans with various offenses on the law, like outstanding traffic tickets, criminal records, and quality-of-life citations.
The course covers the following:
How to expunge traffic tickets, warrants, convictions, and quality of life citations.
The white papers involved in filing for an expungement or clear outstanding warrants and tickets.
How to properly complete forms
You can earn 1.5 credit hours of general California participatory CLE credit for this program.
---
Provider: The American Bar Association
This is a 60-minute, 1.00 general CLE credit hour webinar that provides a practicing attorney with an overview of digital forensics and the usual questions that legal teams need to answer during litigation.
This program also discusses key forensics terms that every lawyer should be familiar with, the importance of legal oversight in incident response planning, and other common misconceptions surrounding digital forensics.
This continuing legal education CLE is free for members of the ABA. Non-members are still allowed entry, but they must shell out $150 to register.
---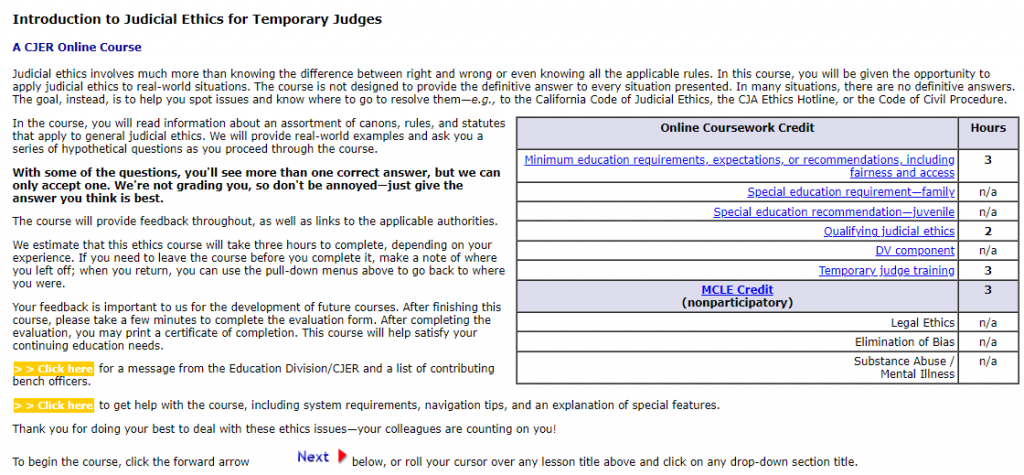 Provider: Judicial Council of California, Center for Judicial Education and Research (CJER)
There is so much more to ethics courses than knowing the difference between right and wrong or understanding all the applicable rules. This on-demand course will allow you to apply judicial ethics in person. Be reminded, however, that this CLE course is not designed to give you the definitive answers to every situation presented.
The goal is to aid and practice an attorney in identifying issues and finding out how and where they will go to resolve them– such as the Code of Civil Procedure, California Code of Judicial Ethics, or the CJA Ethics Hotline.
For this on-demand CLE course that you can complete in three hours online, you will earn 3 MCLE credits.
---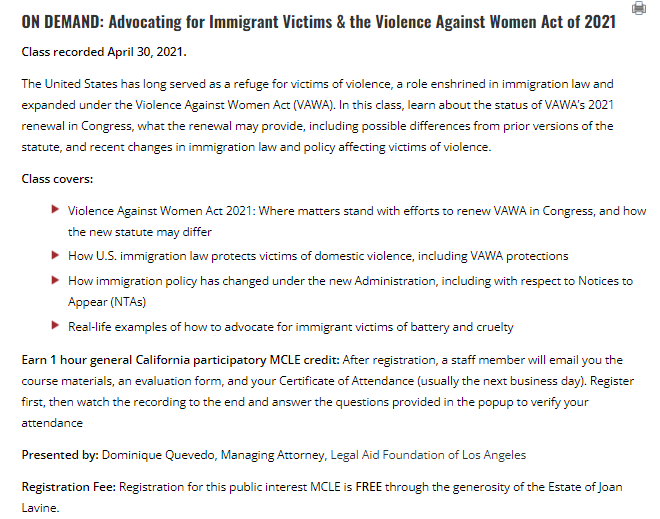 Provider: LA Law Library
Recorded on April 30, 2021, this on-demand CLE course elaborates to the lawyer the status of VAWA 2021, renewal in Congress, and what it provides, including differences from older versions of the law and the latest changes in immigration law and policy that affects victims of violence.
The CLE course covers the following:
VAWA Act of 2021: Where the advocacy stands with efforts to renew VAWA in Congress and how the new law may differ
How the US Immigration law protects domestic abuse victims, including VAWA protections
How the immigration policy changed under a new administration concerning Notices to Appear (NTAs)
This is a free webinar. To secure a certificate at the end of this one-hour CLE program, plus the course materials and evaluation forms, you must register first. The program is presented by Dominique Quevedo, Managing Attorney, Legal Aid Foundation of Los Angeles.
---
Provider: LA Law Library
In the US, particularly in Los Angeles, homelessness is an urgent problem. Most of the time, the debate about the issue usually ignores the important legal realities.
In this 1.5 on-demand CLE credit hour program, gain access to a panel of experts who will give you clarity about what state and local governments can and cannot do to address homelessness and what legal and effective solutions to a complicated crisis will look like.
This class covers the following:
Is it the local government's legal obligation to address homelessness?
Does the law authorize a local government to remove encampments and other visible proof of homelessness?
What rights do the homeless have? And how do these rights affect the efforts to end homelessness?
What could be why homelessness still exists despite numerous laws and programs being passed to deal with the issue? How do these laws affect the efforts to end homelessness finally?
How does the legal profession define the "right to shelter"?
This is an on-demand one-hour course that gives 1 CLE credit after compliance and is presented by Prof. Gary Blasi, Professor of Law Emeritus, UCLA School of Law, Sen. Sydney K. Kamlager, California State Senate, and other big names in the industry.
---
CLE Accreditation
Accreditation of CLE courses is a very tough process. Since each state bar has different minimum requirements based on the practice area of a lawyer, a CLE provider must apply to individual states as deemed applicable to the courses they offer.
Aside from organizations, some attorneys apply for CLE course accreditation. As long the authorized board or commission approves of the in-person class, talks, live webinars, seminars, and online classes, CLE credits are awarded.

Frequently Asked Questions
How do you earn CLE Credits?
A lawyer earns CLE credits through online courses, training, and audio learning. The more experienced attorneys can earn more credit through speaking in seminars, panel presentations, accredited CLE activities, teaching accredited CLE courses, teaching credits at schools, or publishing legal research writing. The credits are measured by the number of hours for years.
It should be noted that attorneys must maintain an active license to practice in every jurisdiction they wish to count their CLE training and other activities.
Who is exempted from earning CLEs?
Some lawyers are allowed not to fulfill their CLE credit requirements. In Florida, for example, exempted are the following:
Those in active military service
Having a nonresident
Approved undue hardship
Full-time employees in a federal judiciary
Supreme Court Justices of Florida
Judges of district, circuit, and county courts
Inactive members of the Florida Bar
Summary Points
Continuing Legal Education credits provide lawyers the opportunity to learn and grow in their field and earn specialty credits! With CLE programs, lawyers gain:
a better understanding and resources of the latest legal developments and practices,
awareness on various topics like technological advancements, mental health issues, client sustainability, etc.,
better access to a wider network in practice, and
enhanced credentials and experience for practice.
To be sure, lawyers are encouraged to check for upcoming webinars in their area.
---
Additional Resources: